Harvest Right | Home Pro Freeze Dryer Medium (5 Trays) with Vacuum Pump and Mylar Starter Kit
Harvest Right
Regular price

$3,195.00

Sale price

$2,895.00

Unit price

per
What you see is what you pay!
Free Shipping to the 48 Contiguous States including Lift Gate Service

Our Shipping Policy Page has details of our Free Shipping to the 48 contiguous states with Lift gate Service included, as well as other things you should know.
Share
Ask a Question
Estimated Arrival: Between Oct 10 and Oct 20.
DESCRIPTION
This easy to use Harvest Right Large Home Freeze Dryer allows you to preserve the food your family loves to eat. Freeze drying locks in flavor nutrition, and texture, and freeze-dried food can last for up to 25 years, making freeze-dried food even better than fresh! A home freeze dryer is perfect for any lifestyle. Freeze dry fruits, veggies, meats, dairy, desserts, and full meals.
This is the new Pro model with one additional tray compared to the previous model!
Gardening
A freeze dryer allows you to keep your home-grown fruits and vegetables fresh for years. Freeze drying at home is the very best way to preserve your garden harvest. It truly is the gardener's best friend.
Emergency Preparedness
Freeze-dried food is perfect for emergency food supplies, bug out bags, 72-hour kits, and other survival packs. With a home freeze dryer, you will be prepared for any kind of emergency.
Outdoors
A Harvest Right Home Freeze Dryer lets you freeze dry your own food at home to be used on your next hike, backpacking adventure, hunting trip, or camp out. It is lightweight, has less salt, and tastes better than anything else that will fit in your backpack.
Healthy Living
Buying freeze-dried food from a store is expensive. The food is full of salt and other preservatives and the limited choice means you buy meals you may not even enjoy eating. Freeze drying your own meals and produce is a great way to save when building your emergency food supply.
Pet Food
Everyone, even your pet, benefits from having a freeze dryer. You can easily feed your pets the healthy, preservative-free, home-prepared food they deserve and crave.
Features
Freeze dry 1,600 pounds of fresh food per year (10-15 pounds per batch). In a year's time, you can freeze dry 390 gallons of food.  Each batch produces 2-3.5 gallons of freeze dried food.

Dimensions
Overall product dimensions: 19″ W x 25″ D x 29″ H
Dimensions without door or vacuum fitting: 18″ W x 21.25″ D x 28.5″ H
5 trays (7.5″ W x 18″ L x 0.75″ H)
Weight
119 lbs. (Stainless unit is 127 lbs)
There is also a detachable vacuum pump that sits outside the freeze dryer.
Premier Oil Vacuum Pump: 32 lbs
Oil-Free Vacuum Pump: 42 lbs
Power
110 volt outlet.
Maintenance Free
Simply filter and replace oil (unless you upgraded to an oil-free pump). It just takes a couple of minutes.
INFORMATION VIDEOS
What's included
Medium Freeze Dryer
Premier Vacuum Pump (or optional upgraded Oil-Free Vacuum Pump)
Vacuum Pump Oil (unless you upgraded to Oil-Free Vacuum Pump)

Oil Filter (unless you upgraded to Oil-Free Vacuum Pump)
Stainless Steel Trays (set of 5)
Medium
Guide to Freeze Drying
Mylar Bags (50 ct)
Oxygen Absorbers (50 ct)
Impulse Sealer
Warranty
3 Year Limited Warranty
---
7 Great reasons to buy from us:
Google Rated Top Quality Store

100% FREE Shipping

No Sales Tax

Financing Available

Price Match

Live Customer Service

American Owned Business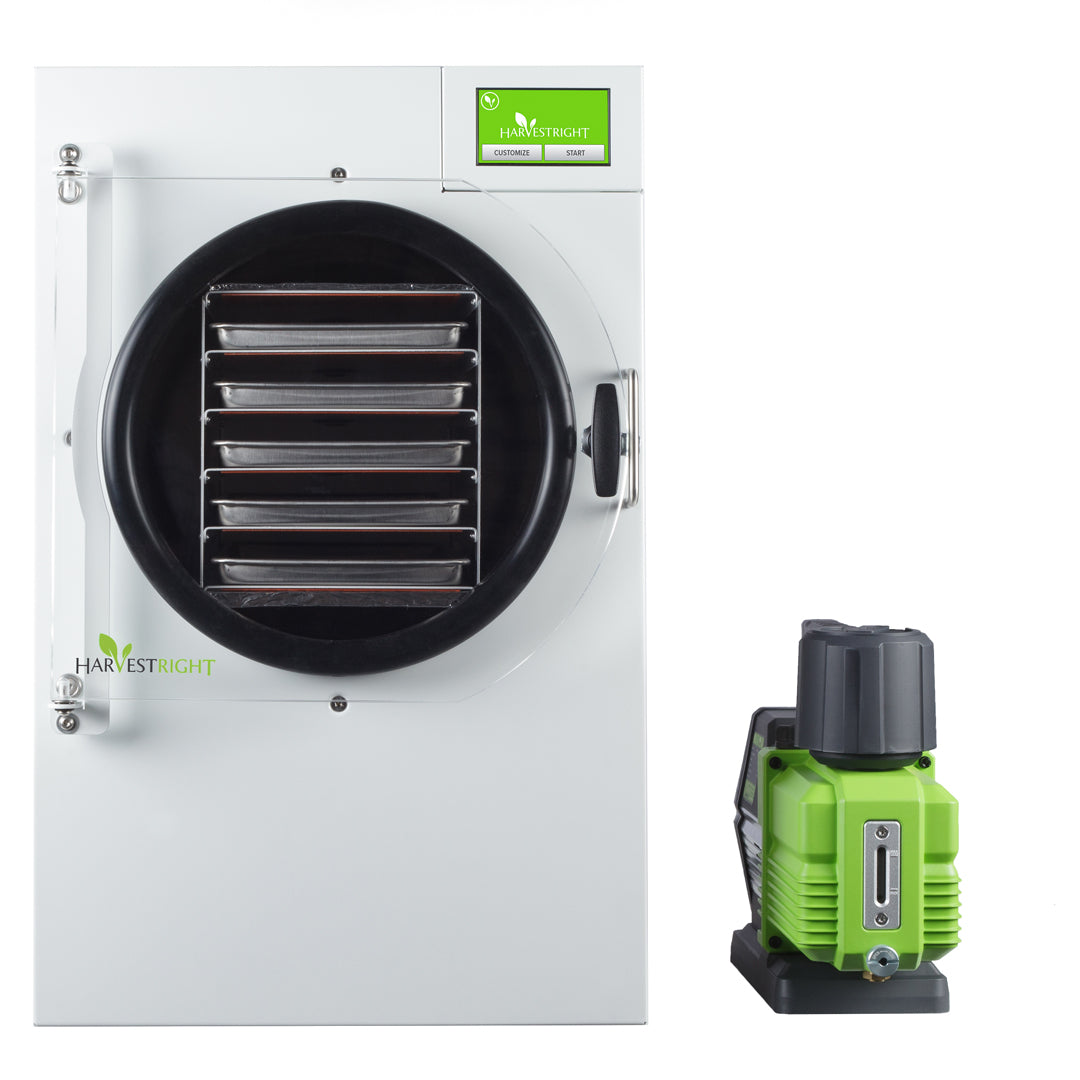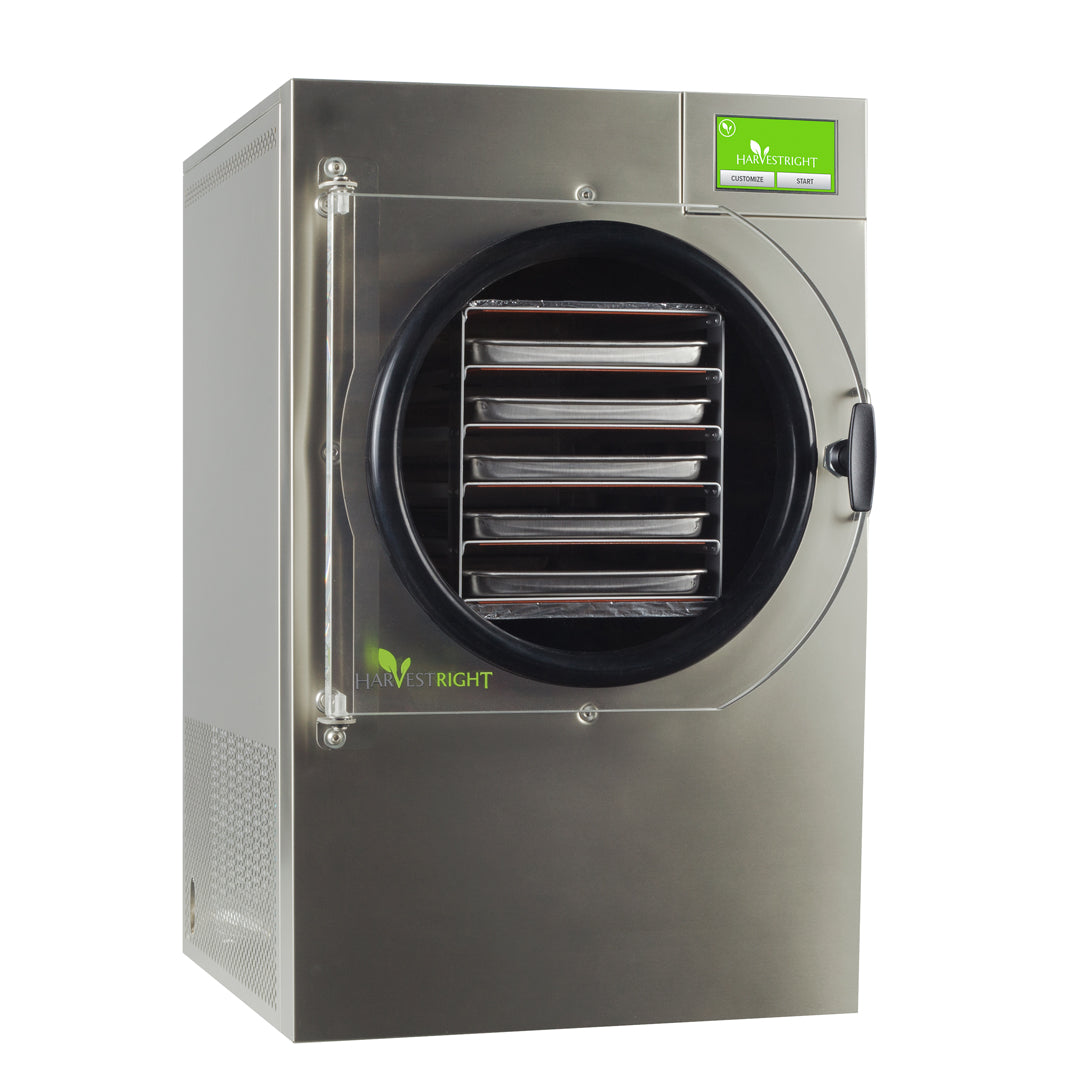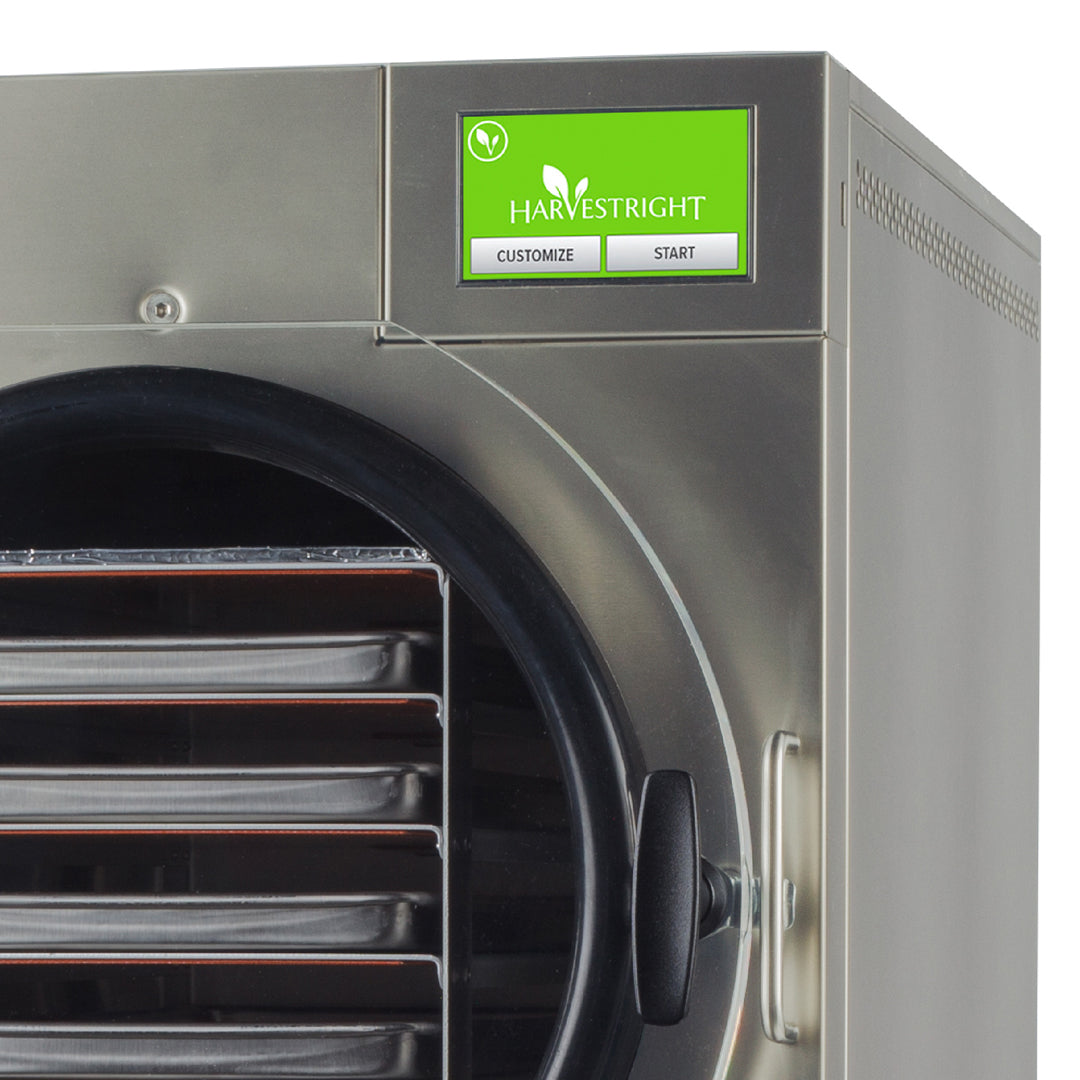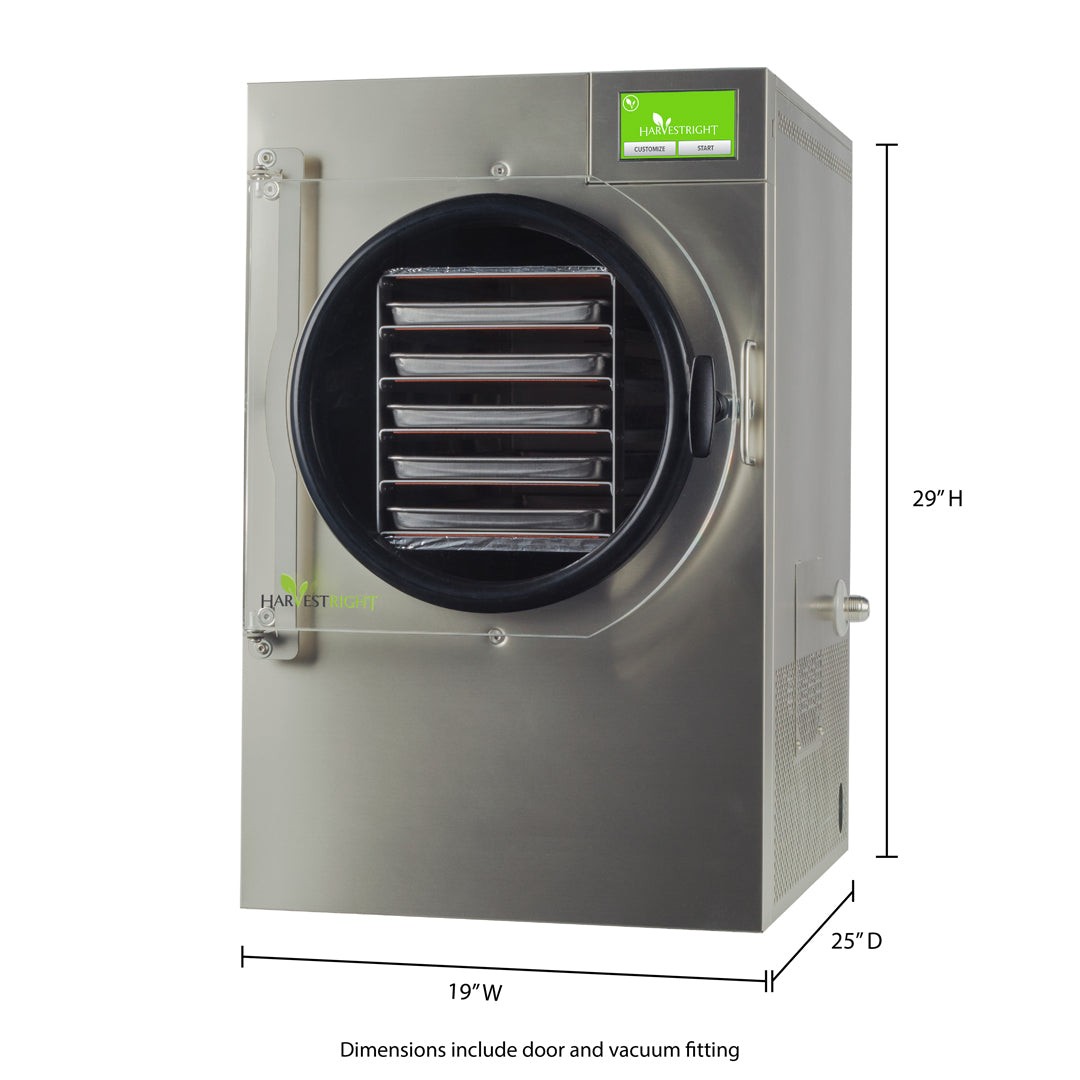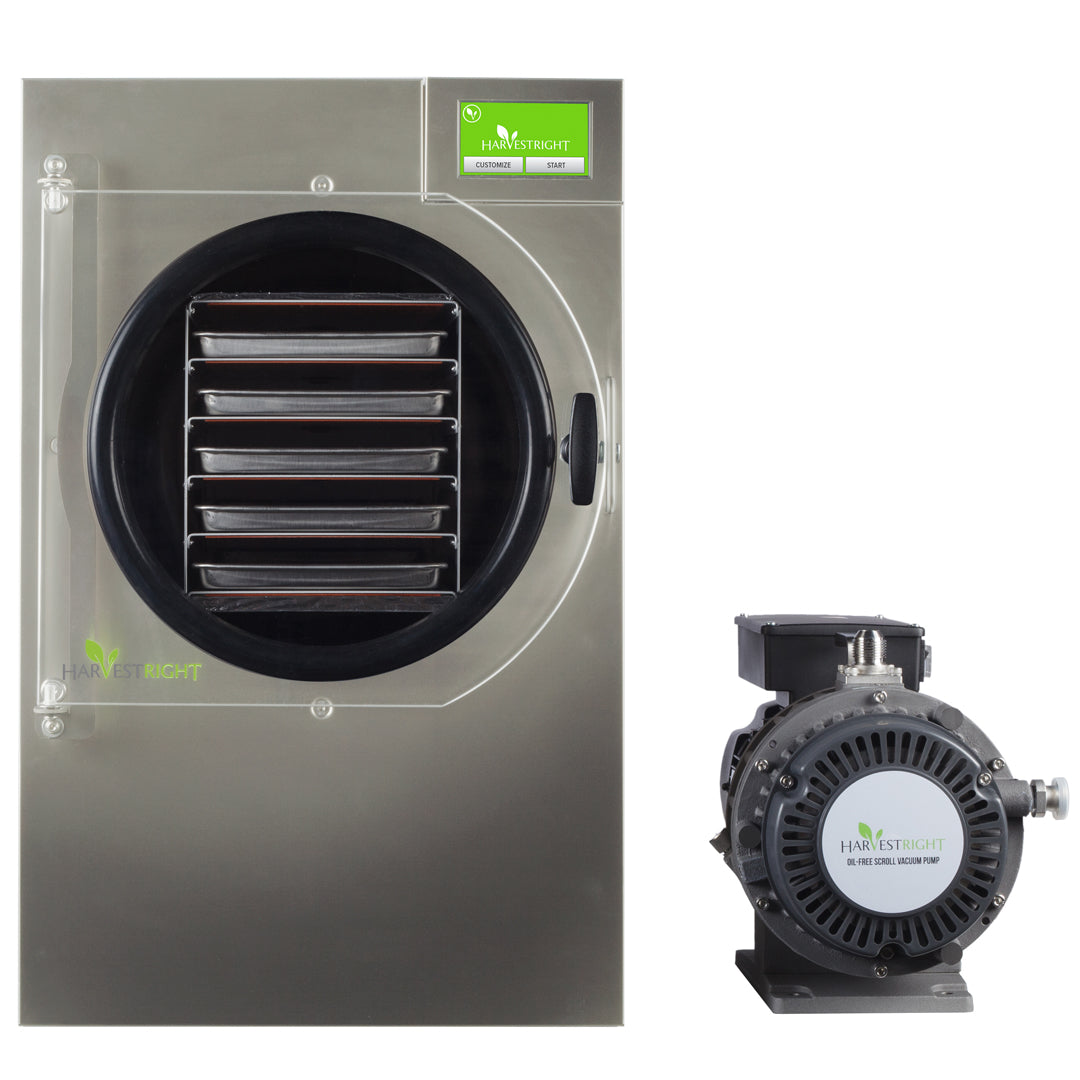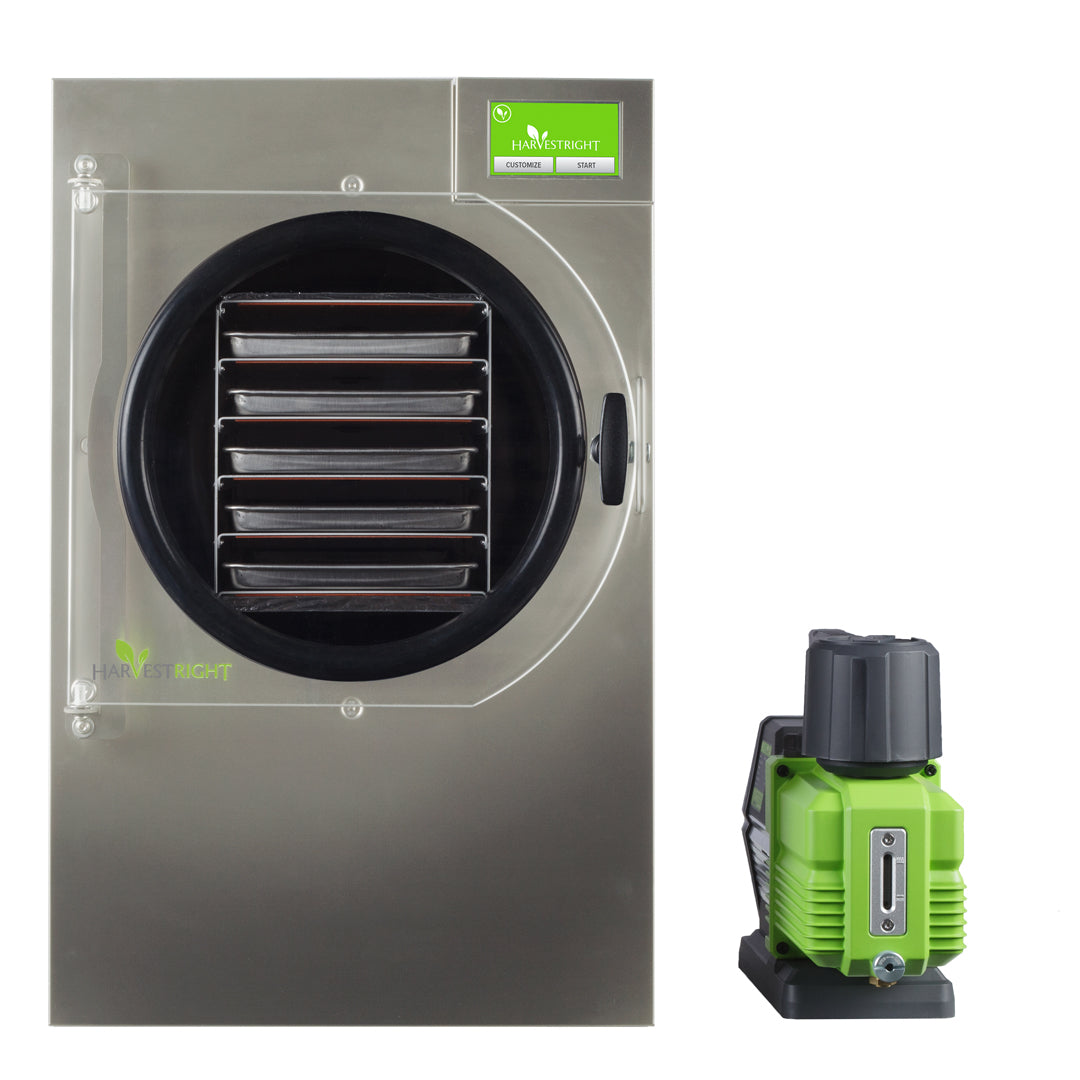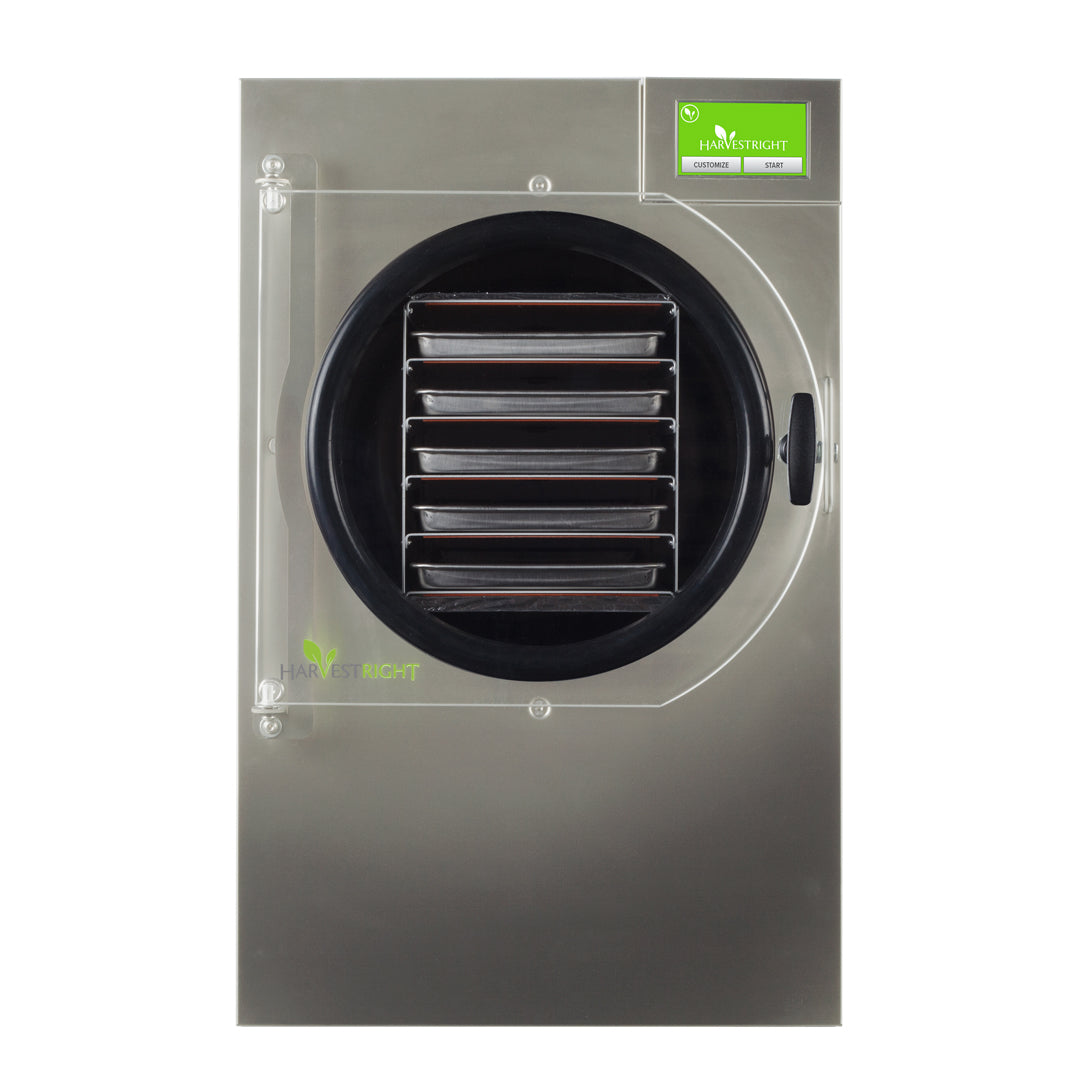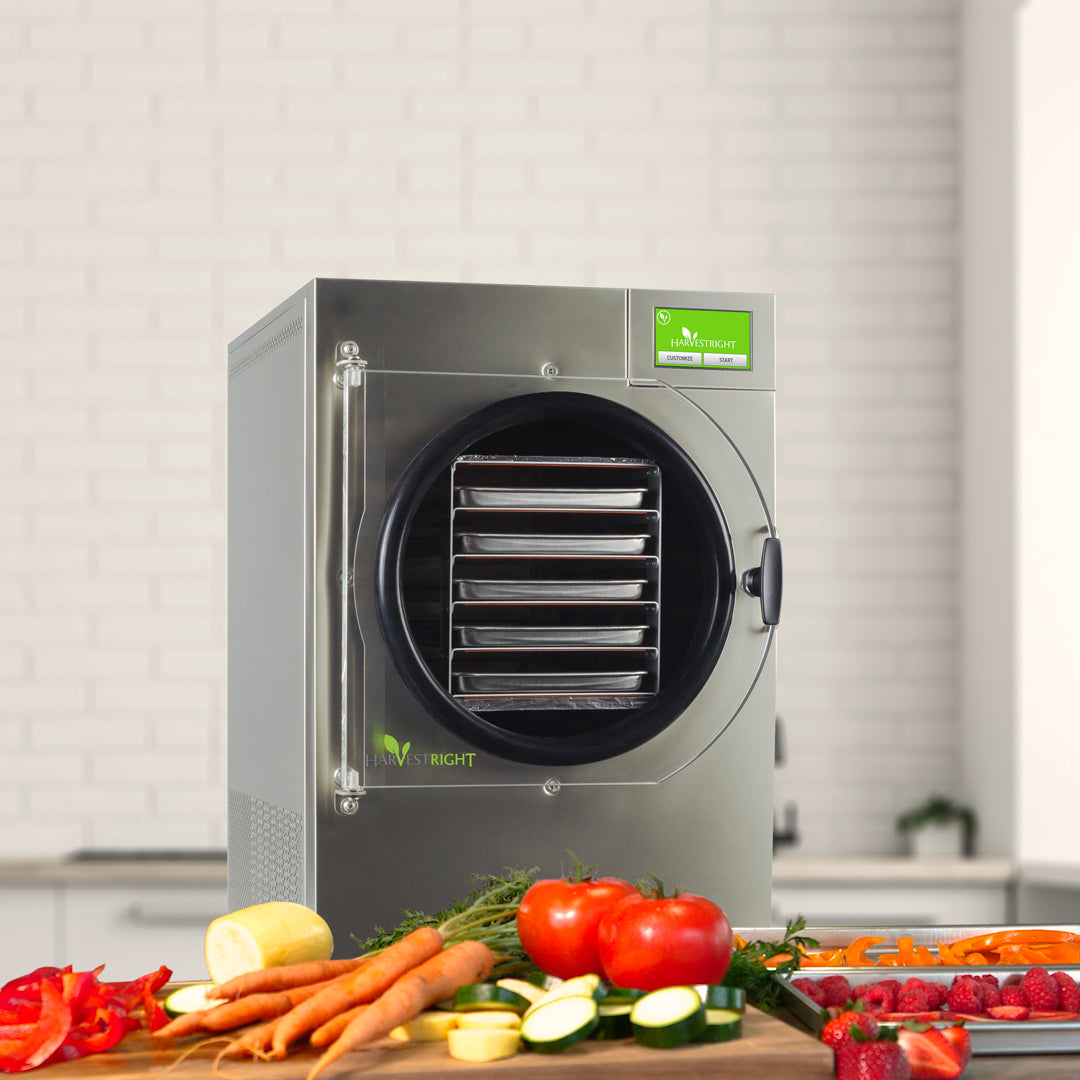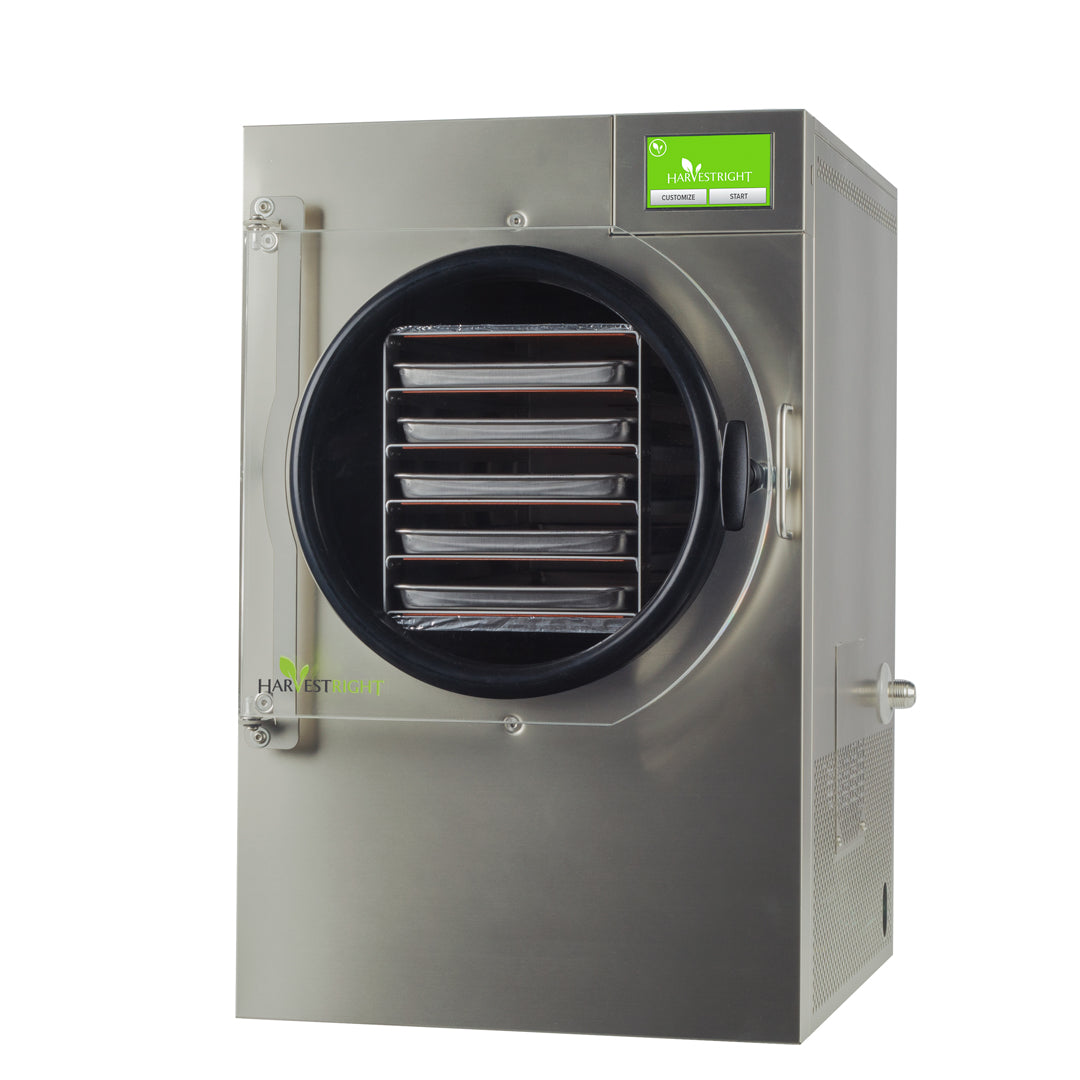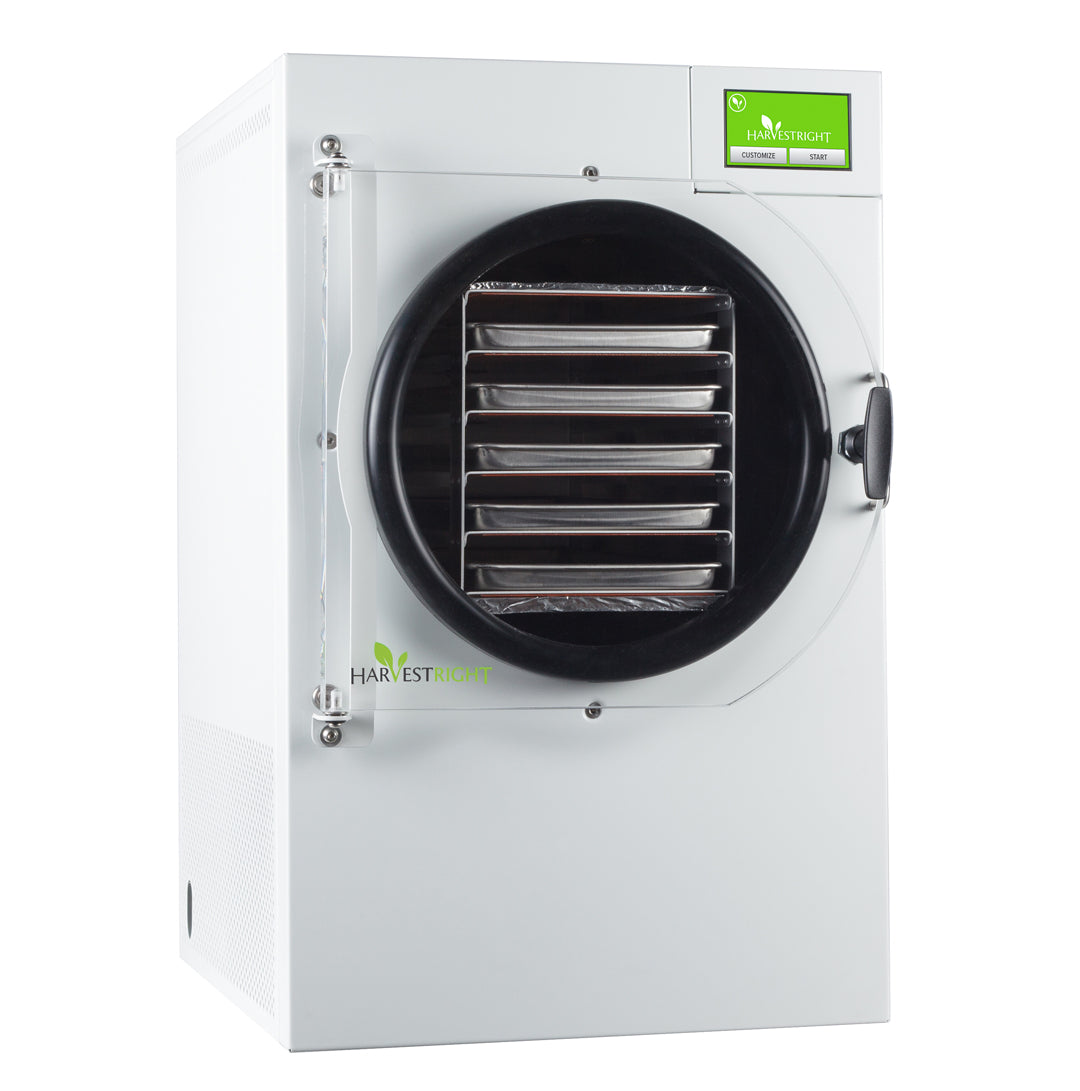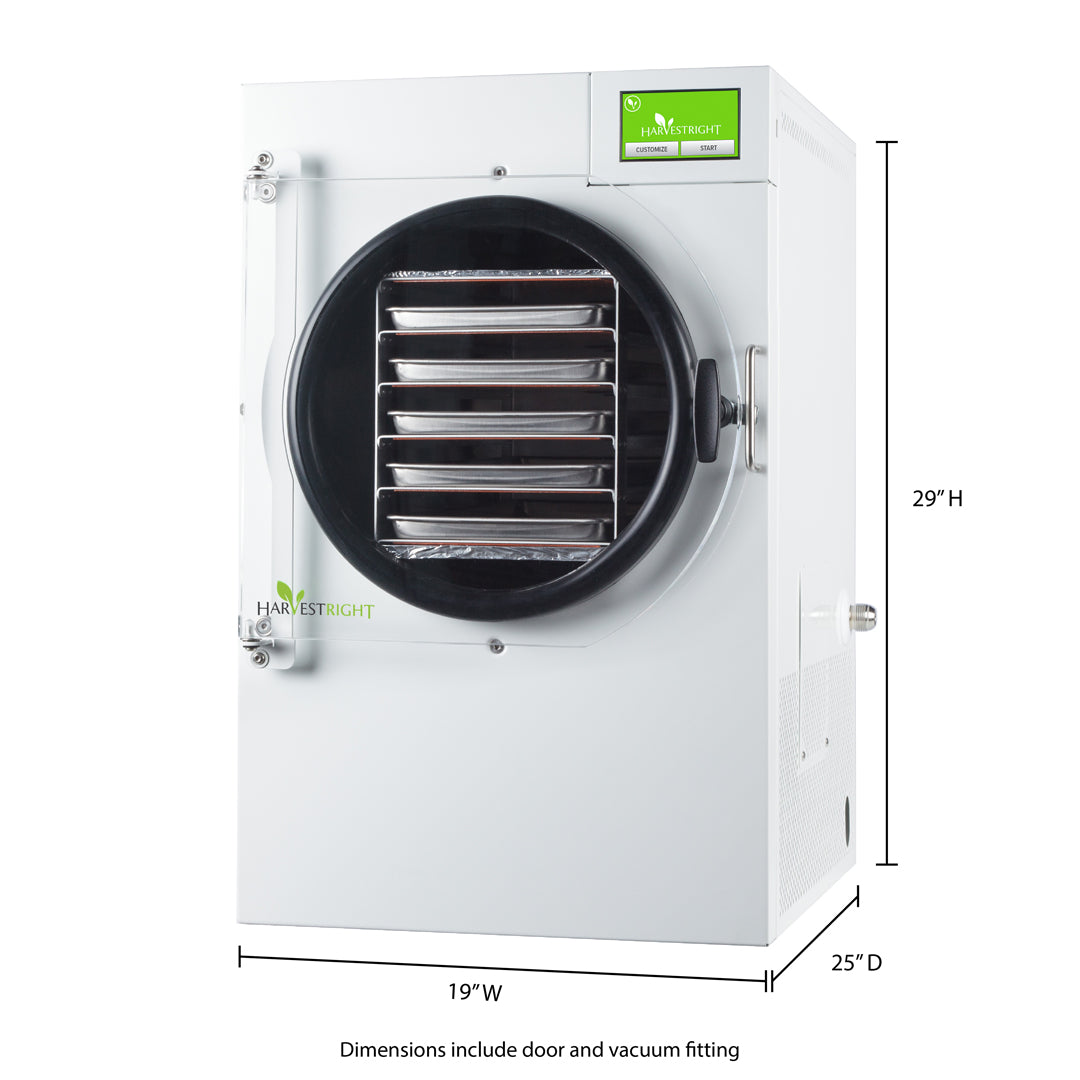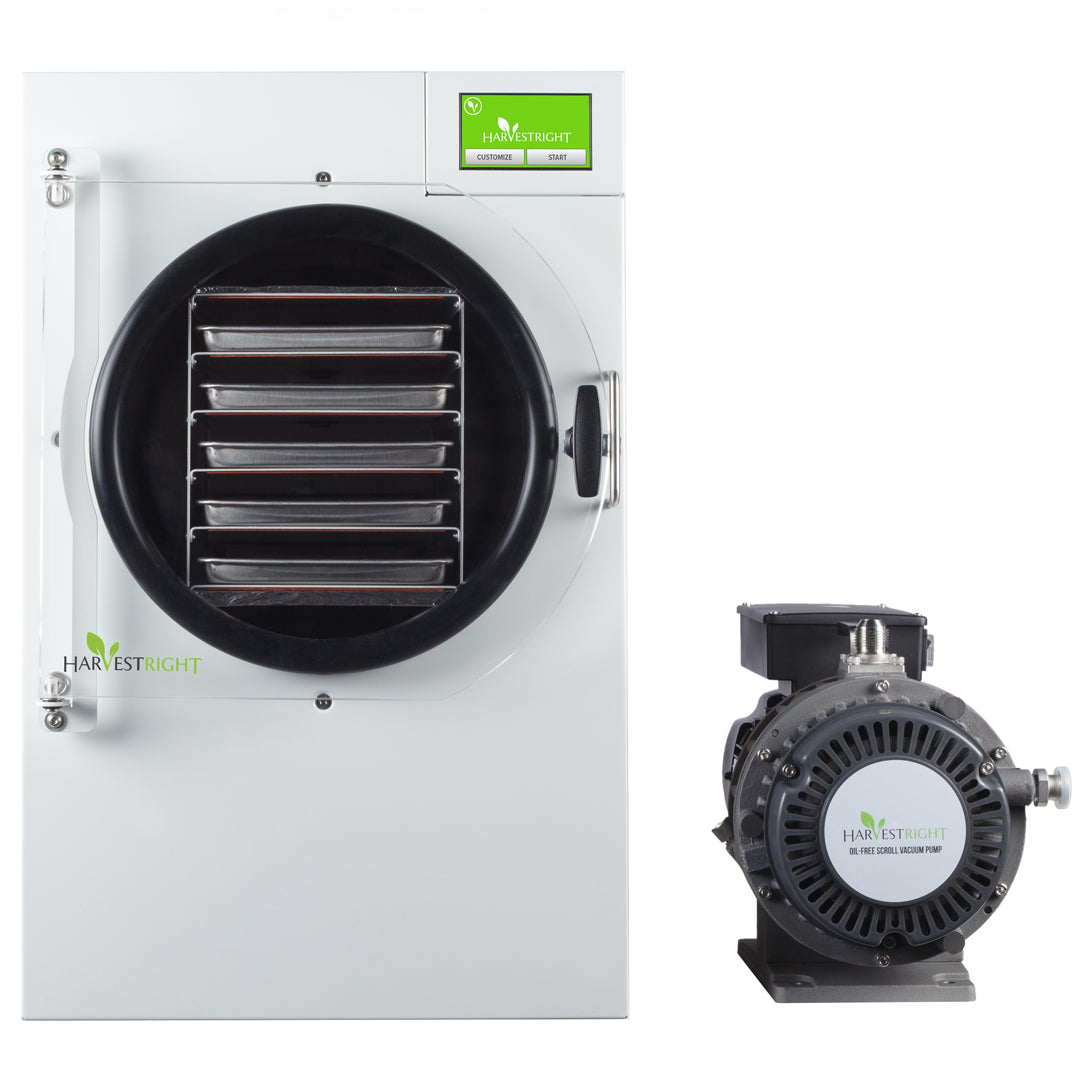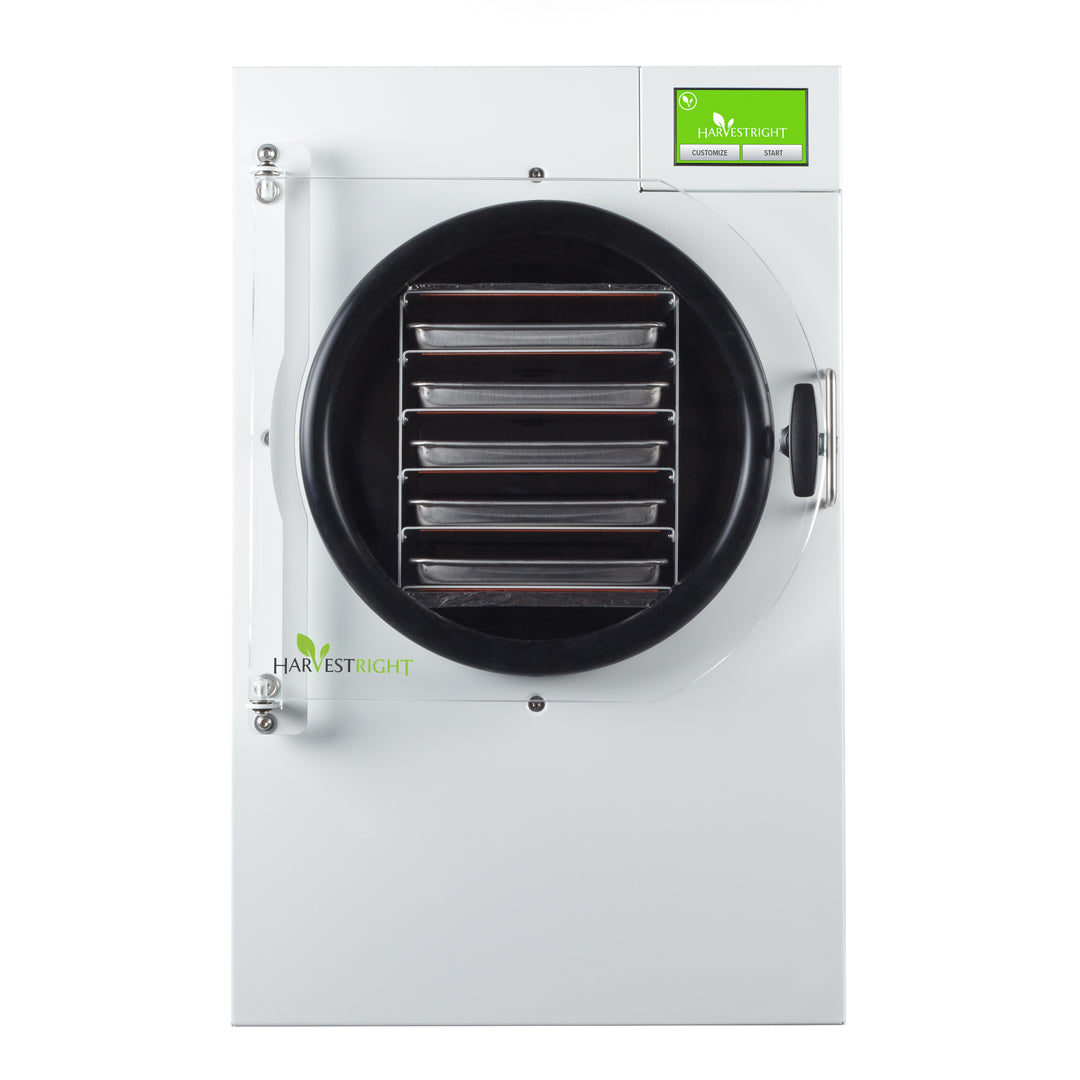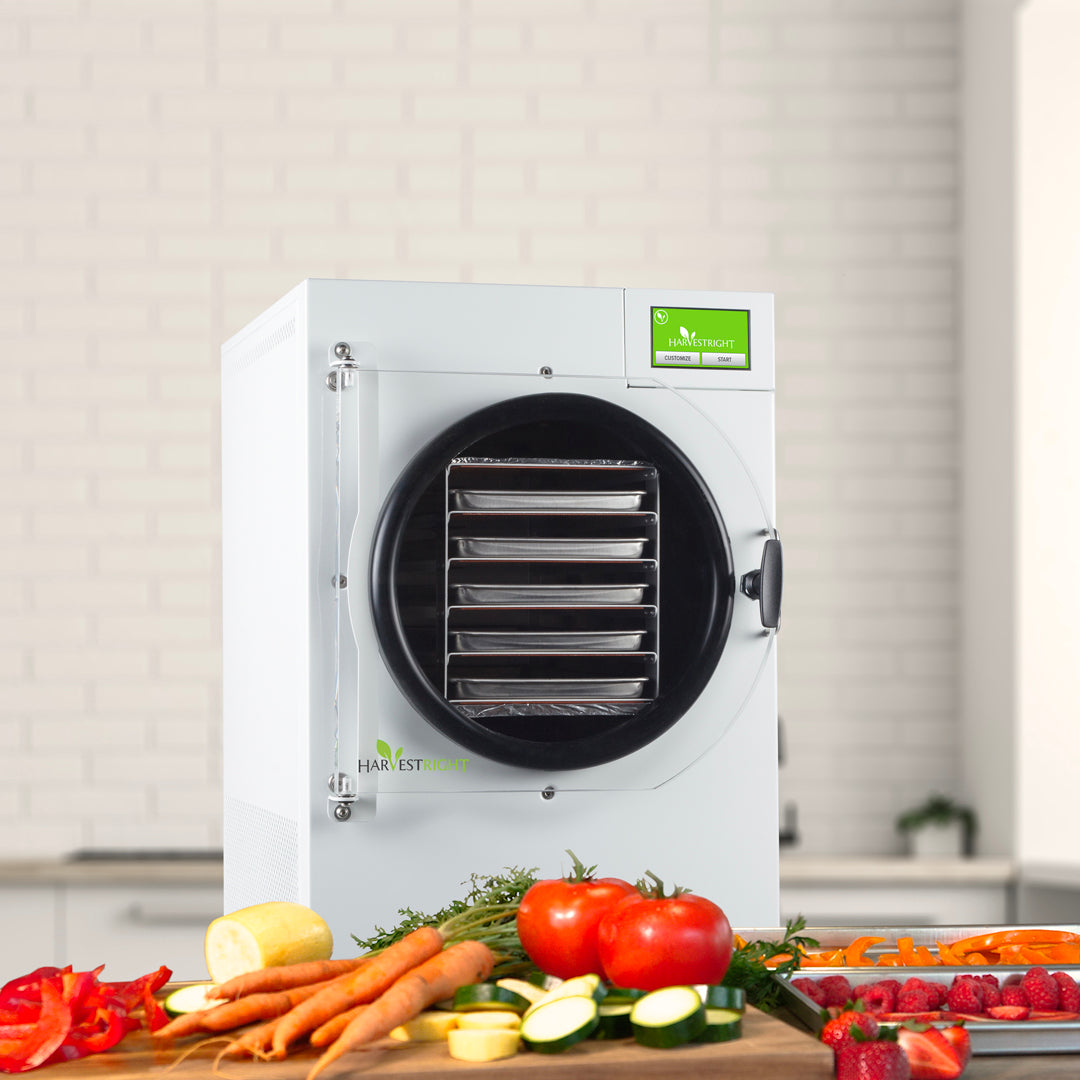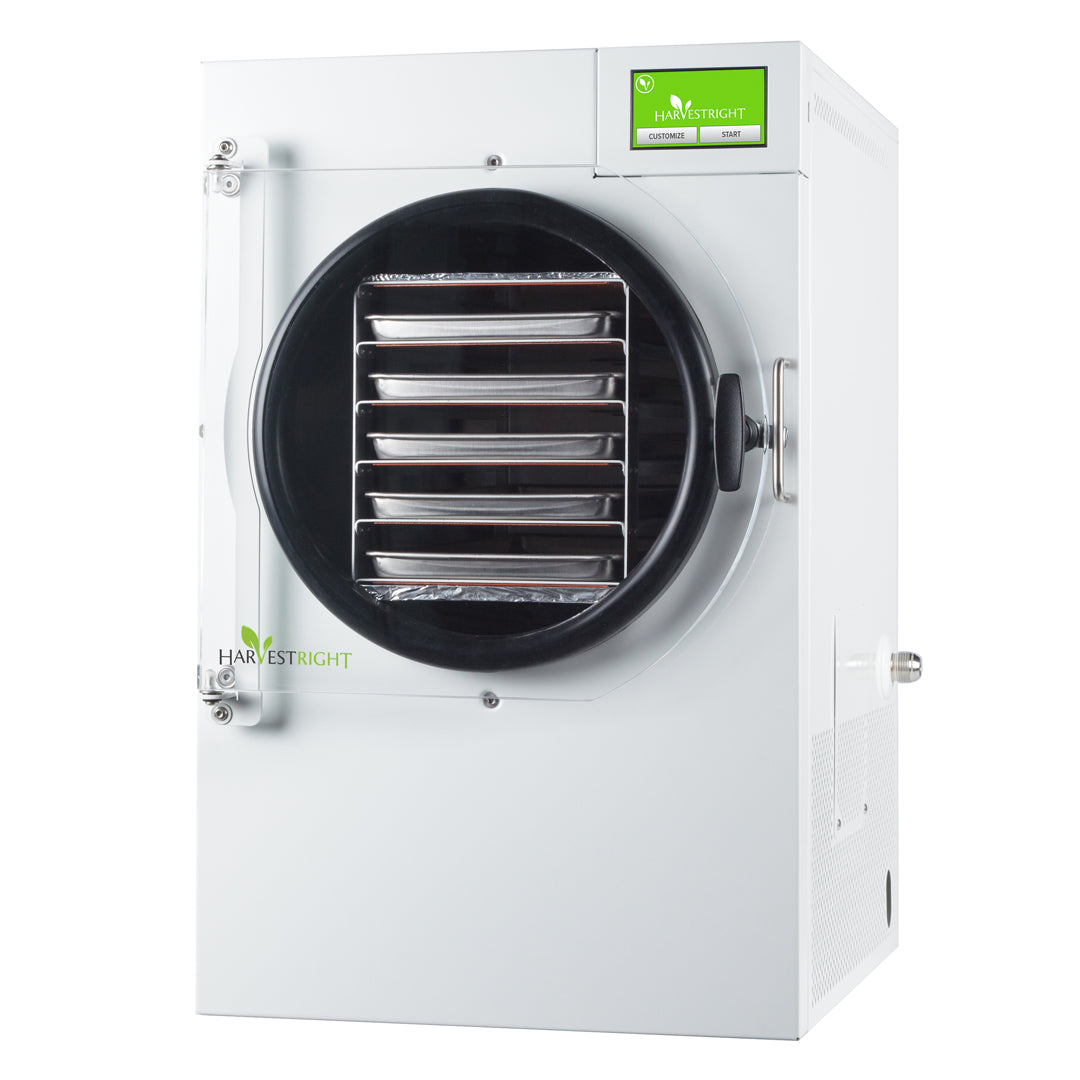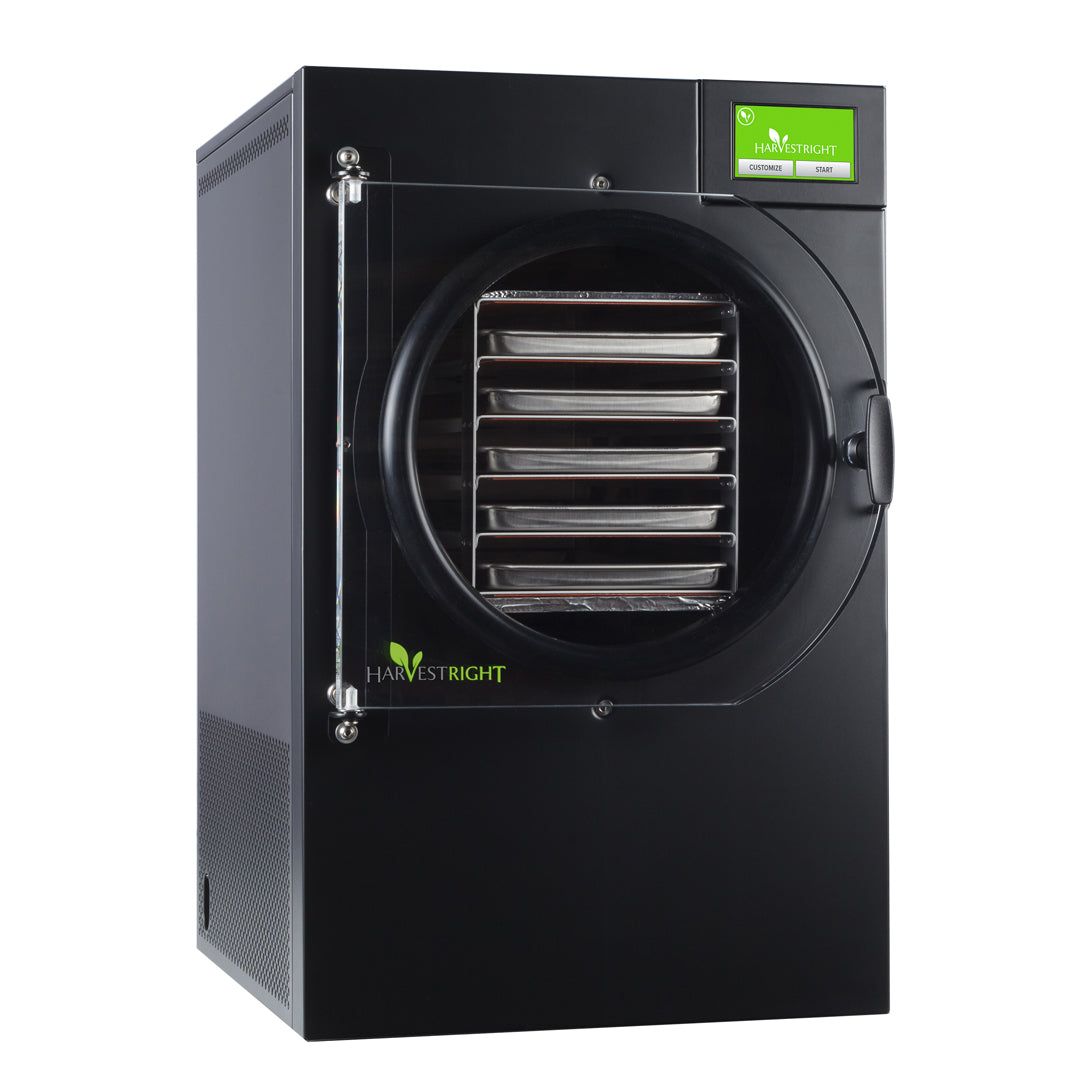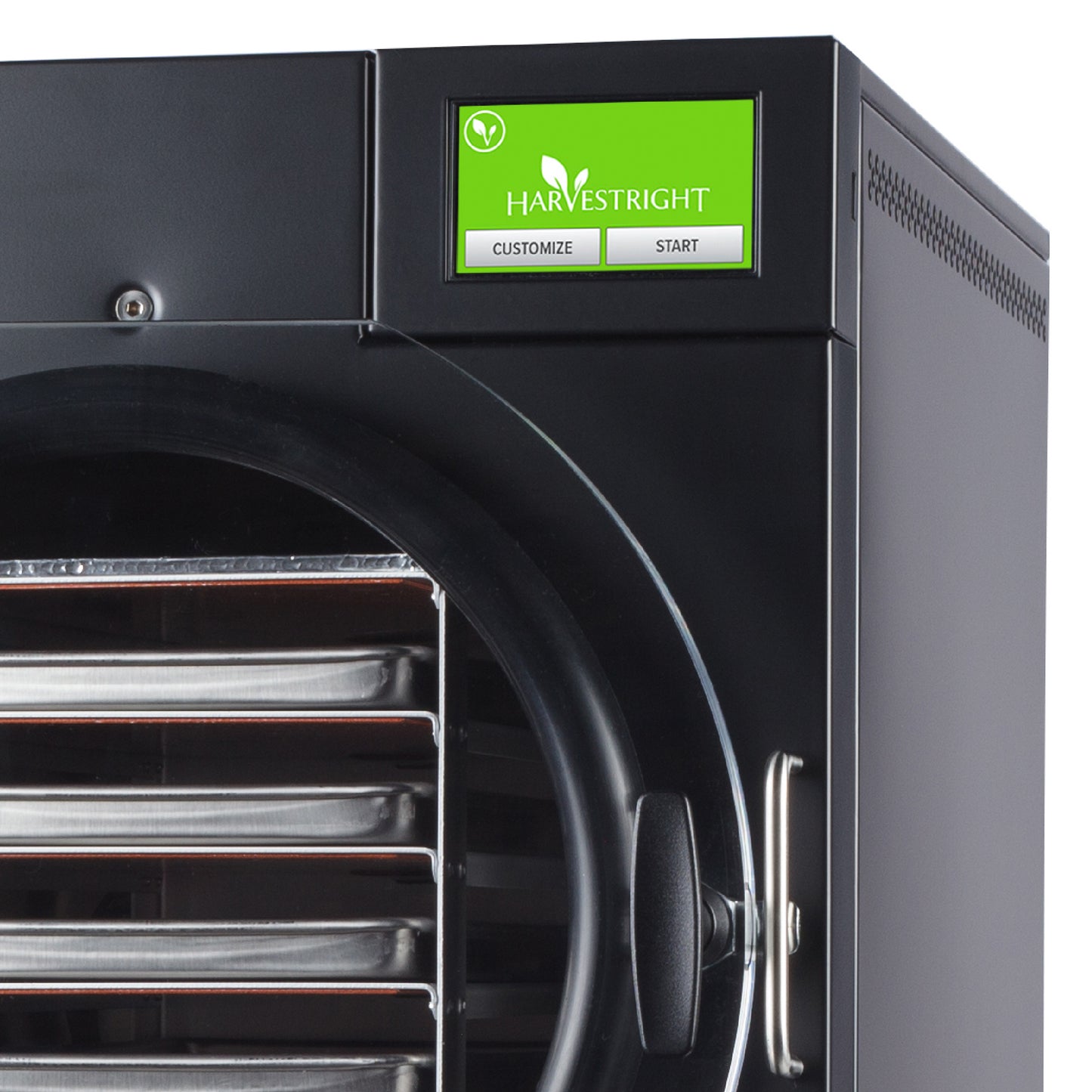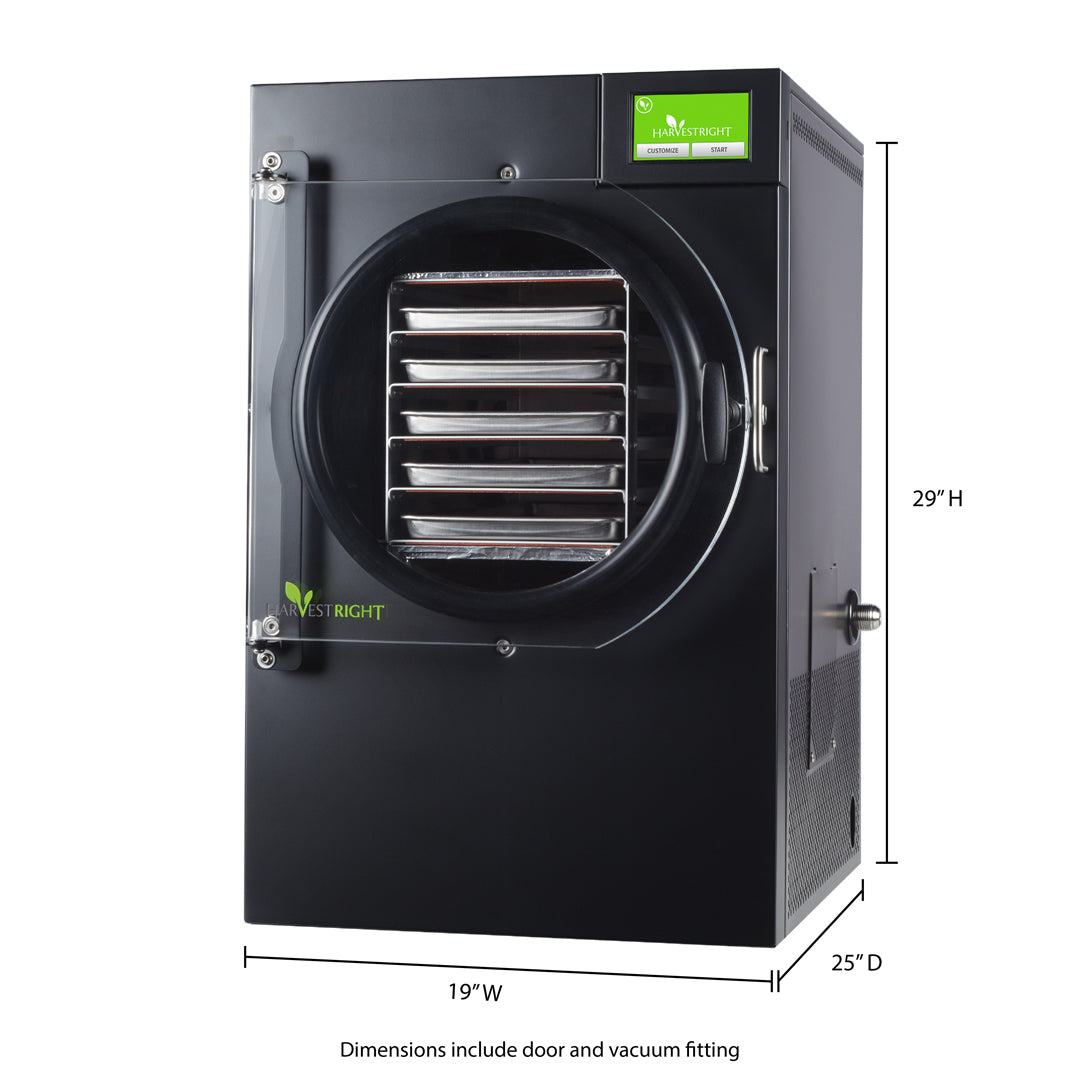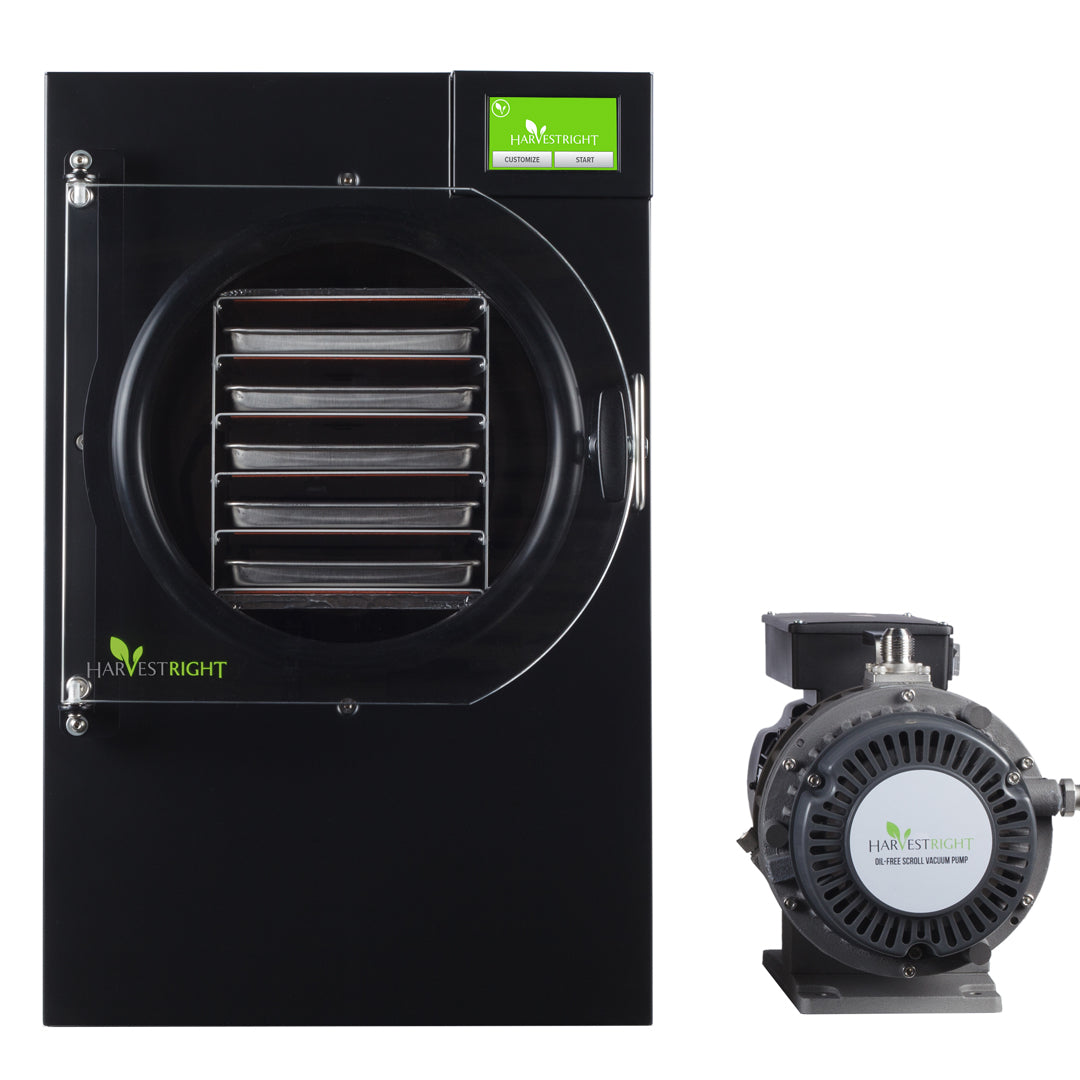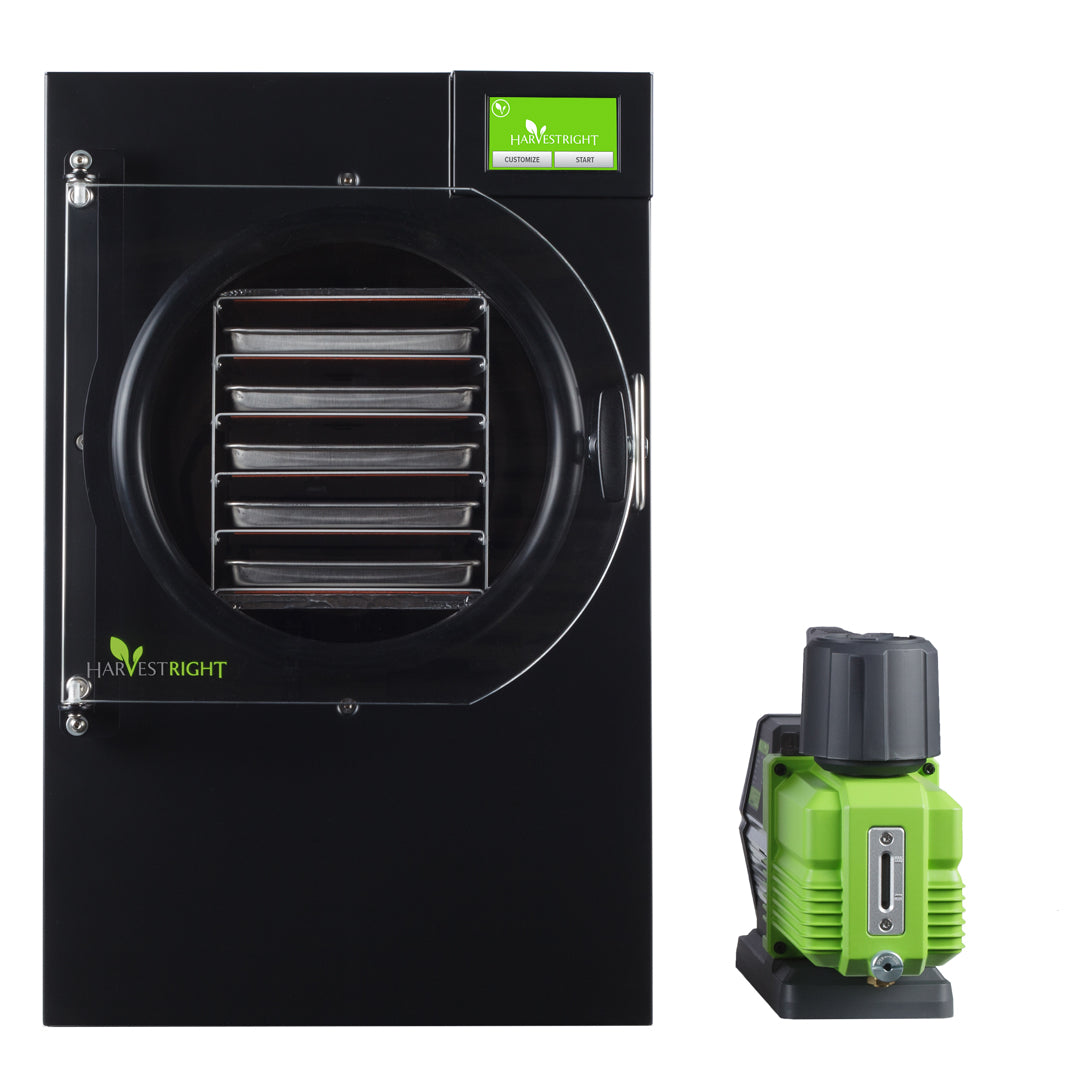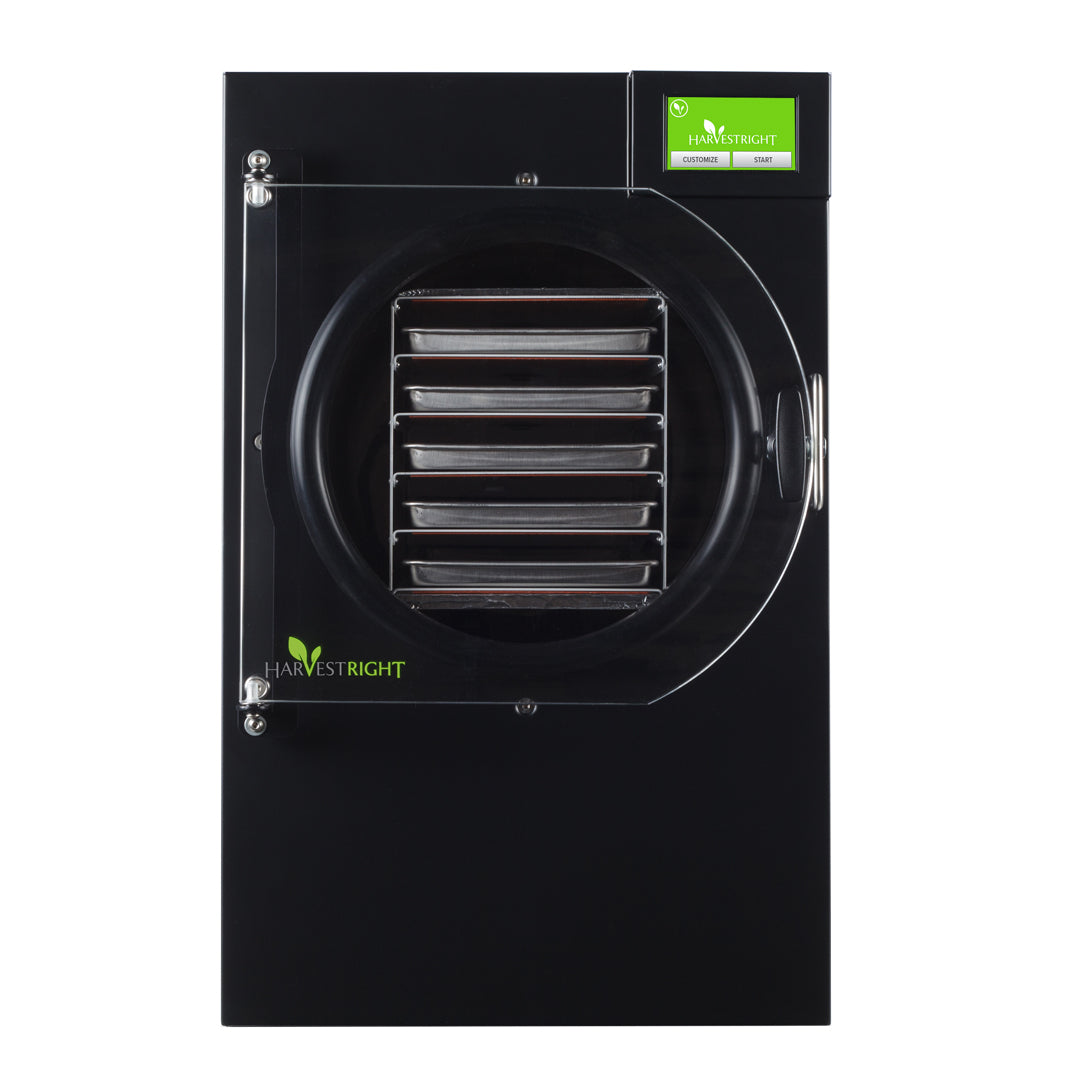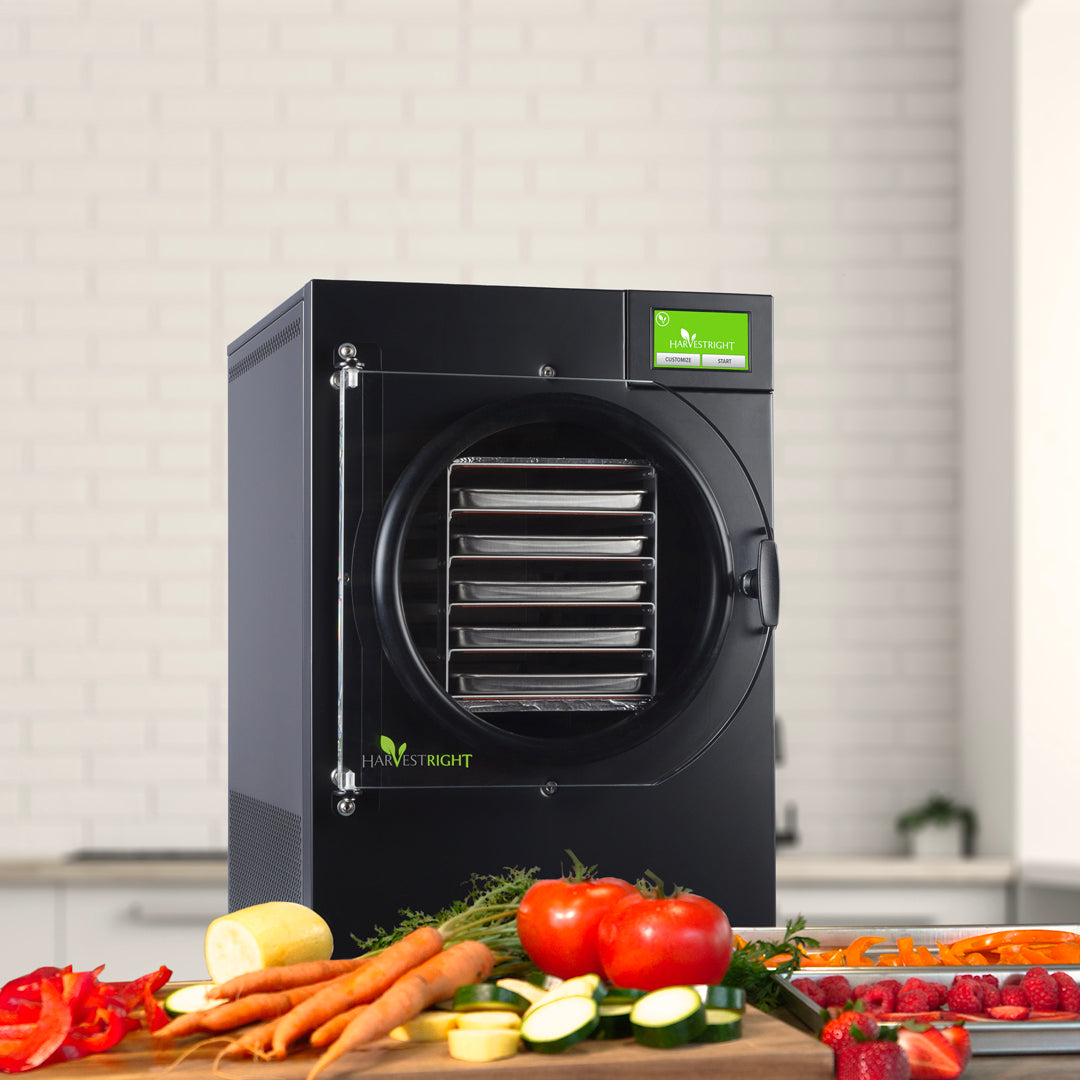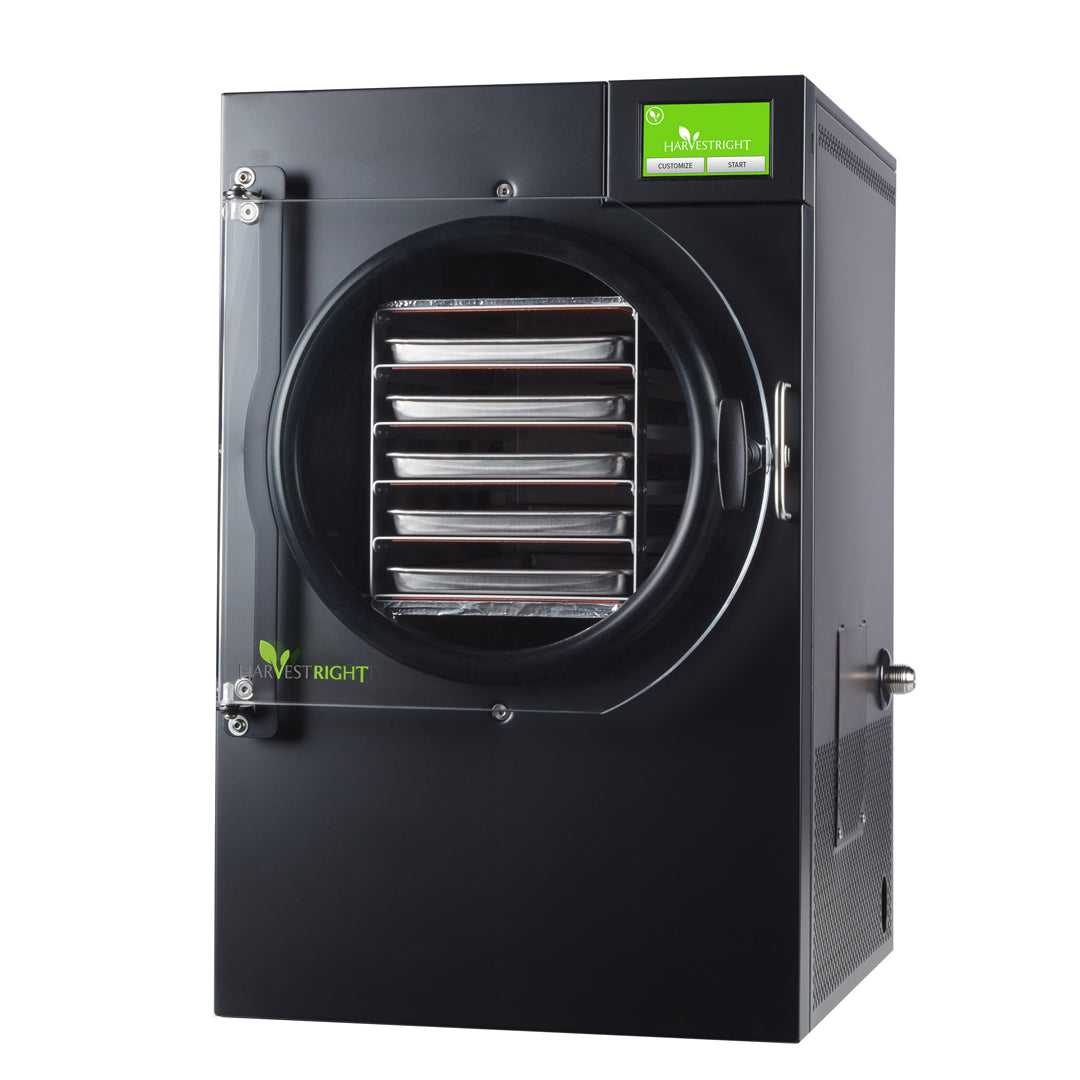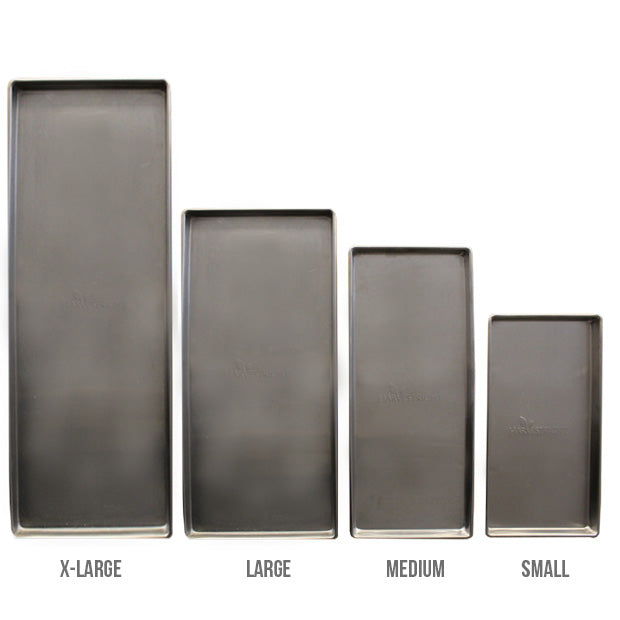 Is this an oil free pump or not. The premier pump on the manufacturer website has oil and filter but this site lists an oil free pump in the what's included section.

The Premier Oil Pump comes with the freeze dryer, needs oil changed (filtered and topped up) every 20-25 batches, and takes 2-3 minutes.  When you order with the premier pump, you also get an oil filtering kit to help with that.  You can upgrade to an Oil-Free Pump when you order, and that vacuum pump does not need oil changes or filtering.