Hoklartherm | Rondo VK Garden Pavilion
Hoklartherm
Regular price

$29,999.00

Sale price

$29,599.00

Unit price

per
What you see is what you pay!
Free Shipping to the 48 Contiguous States including Lift Gate Service

Our Shipping Policy Page has details of our Free Shipping to the 48 contiguous states with Lift gate Service included, as well as other things you should know.
Share
Ask a Question
Estimated Arrival: Between Oct 13 and Oct 15.
description
This beautiful Hoklartherm Rondo Garden Pavilion is a practical and beautiful way to increase the usability of your property. It can be used for all types of entertainment and also makes a great hot tub cover. With its eye-catching domed roof, the Rondo VK Garden Pavilion will be an exquisite feature in your garden.
With the Rondo you can enjoy your garden in any weather. When the sun is shining, you can sit outside all day long, because the open part of the pavilion can be moved with the sun. If the wind picks up, simply align the half shells against the wind so that you sit protected from the wind. If the weather is too bad, you can close the pavilion.
Rondo is as Strong as it is Beautiful, and Enhances Any Backyard
This lightweight structure will stand up against 80mph winds, and stay standing even under a 28lb per square foot snow load. Two individual glass walls each cover 180 degrees of the pavilion slide on circular tracks - that allows you to position an opening wherever you like. You can also position the walls so that your pavilion is completely enclosed, then use the sliding door in the outer wall section to enter and exit.
The included thermodynamic fan helps provide ventilation for your Rondo pavilion.
Tried and tested in wind and weather, whether in the mountains or directly by the sea, the Rondo pavilion keeps its promises.
Take advantage of this beautiful pavilion to create a unique area to enjoy
House a Jacuzzi Tub and surround it with your favorite plants
An Inspiring Art/Hobby Studio
A Tea House
A Planetarium / Observatory
An Entertainment Room
A Yoga/Exercise Room
A Mediation/Relaxation/Reading Sanctuary
A retreat to enjoy fresh air and sunlight
Spotlight: Rondo Garden Pavilion as Astronomy Observatory
Wow, look at this amazing Rondo Garden Pavilion installation! Paul A. is using his Rondo as a permanent space for his astronomy equipment. He added Avery Dennison R Silver X Poly solar reflective film to the outer panels, which gives a mirrored finish on the outside, but allows high visibility from inside. A great looking, fun, practical application.
Solar film gives Paul's Rondo a very unique and high tech look.
He is using a dedicated fan (yellow) to keep circulation flowing to the top ventilator.
A view of the Rondo Garden Pavilion completely open. Lots of room, easy to operate.
FEATURES
Elegant Domed Roof
Exquisite Pavilion made out of two curved walls - each cover 180°
Walls rotate around on two tracks - each will rotate 360°
Position opening in any direction you like
Includes a sliding door in outer half
Comes with shade cloth in the inner half
Great hot-tub cover
Aluminum frame
Includes thermodynamic wind driven fan
Rated for 80mph winds
28 lbs/sq.ft snow capacity
Wind rating and snow capacity can be increased with optional reinforcement package
5 Available sizes from 10 ft 10in to 19 ft 6 in diameter
4 standard colors: Anthracite (Dark Grey), Dark Green, White, Black
A huge array of custom colors are available at extra cost and approximately 1 or 2 months longer turnaround time.  Call for selection: 888-648-5333
5mm tempered safety glass sides
4mm high-impact plexiglas roof
SPECIFICATIONS
Rondo VK 1   3,31 m = 130" = 10'10" dia. ; 6' 11" side wall, center 9'10" h
Rondo VK 2   3.94 m = 155" = 12'11" dia. ; 6' 11" side wall, total height with base 11'10"
Rondo VK 3   4.62 m = 182" = 15'2" dia. ; 6' 11" side wall, center 11'1" h
Rondo VK 4   5.28 m = 208" = 17'4" dia. ; 6' 11" side wall, center 11'9" h
Rondo VK 5   5.93 m = 233.5" = 19'6" dia. ; 7' 2" side wall, center 12'7" h
INSTALLATION MANUAL
Note: both the rounded dome roof (VK) and the pyramid/pagoda-style roof (VP) models have the same assembly instructions.
WARRANTY
Warranty: all aluminum and 5 mm glass panels – lifetime against manufacturer's defect. For the plexiglas panels in the roof it is 10 years pro-rated after 6 years. However, we are told that normal expected lifespan of the roof panels is more like 15-20 years (with slight discoloration) – it really depends on where the unit is placed in the US. In some parts of the southwest there is a thinner ozone layer resulting in higher UV levels  – and all UV protected plastics do deteriorate faster in those areas.
---
7 Great reasons to buy from us:
Google Rated Top Quality Store

100% FREE Shipping

No Sales Tax

Financing Available

Price Match

Live Customer Service

American Owned Business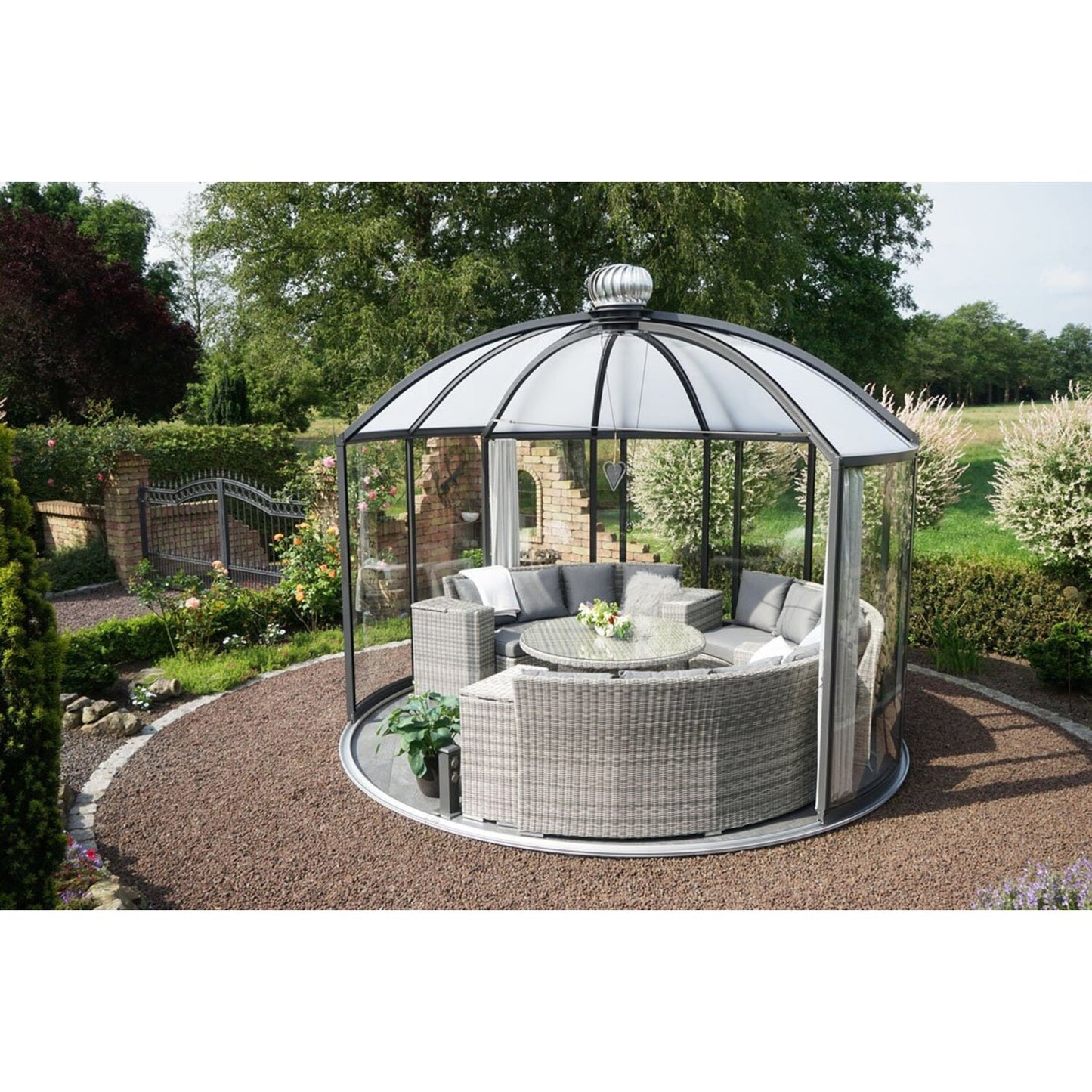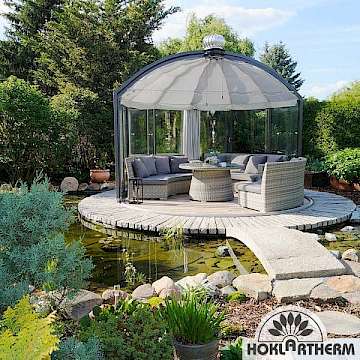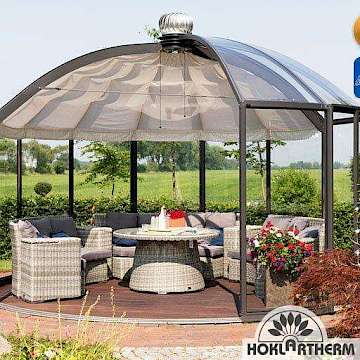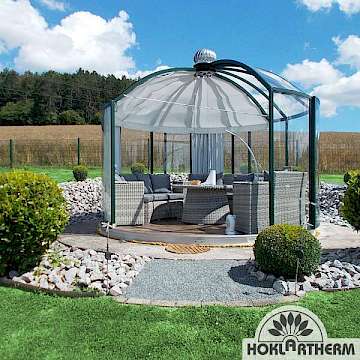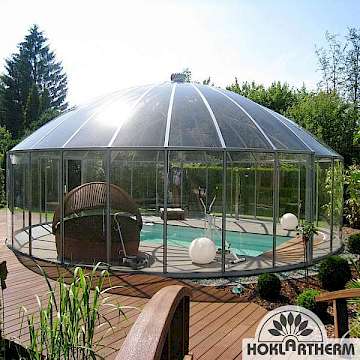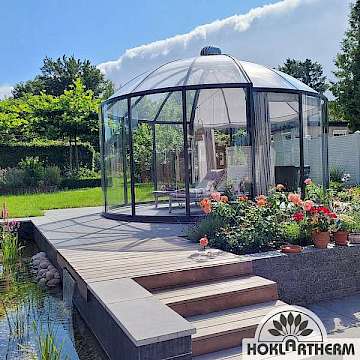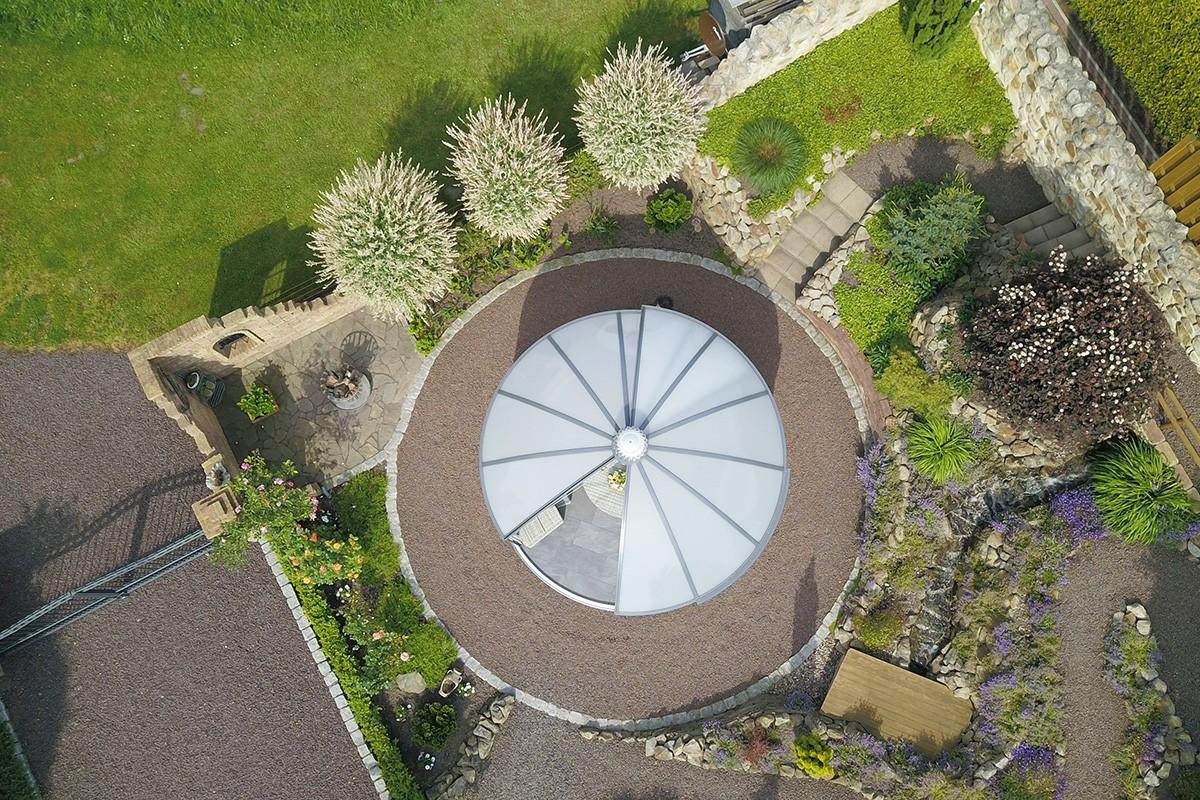 QUESTIONS & ANSWERS
Have a Question?
Be the first to ask a question about this.
Ask a Question