Janssens | 10x20x9 ft Royal Victorian VI 36 Large Greenhouse Kit With 10mm Twin-wall Polycarbonate Glazing
Janssens
Regular price

$19,900.00

Sale price

$12,999.00

Unit price

per
What you see is what you pay!
Free Shipping to the 48 Contiguous States including Lift Gate Service

Our Shipping Policy Page has details of our Free Shipping to the 48 contiguous states with Lift gate Service included, as well as other things you should know.
Share
Ask a Question
Estimated Arrival: Between Oct 10 and Oct 17.
DESCRIPTION
This high quality classic Royal Victorian VI 36 Greenhouse Kit with 10mm Twin-wall Polycarbonate Glazing provides the optimum environment for gardening year round while adding a delightful stately presence to any backyard setting.

The substantial aluminum framework, 10mm twin-wall polycarbonate panels and full 6ft 7in side wall height combine to give you a comfortable interior workspace and a full view of your surroundings. The peak height is 9ft 2in.

Available in three sizes. This is the large one in this series, 10ft 2in W x 19ft 11in L x 9ft H and you have a choice of Back or Dark Forest Green Aluminum Frame. Other colors are also available for special order to match your decor. This medium Royal Victorian VI 36 Greenhouse Kit with 10mm Twin-wall Polycarbonate Glazing comes with
2 sliding doors
2 roof windows with spindle openers
2 roof windows with automatic openers
1 louver window with clear Lexan cover sheet for the winter season
1 misting system
large gutters with downspouts
large bottom frame/base
Whether you are overwintering special or valuable plants from the cold, starting seedlings or creating a tropical jungle, you can enjoy years of maintenance-free use. The automatic roof openers, louvered window and misting system are included to allow you to control the environment within your greenhouse to your specific needs. An optional shade net is also available as an added accessory if you need more shade in your greenhouse.
It is perfect for use as a full featured greenhouse, a whimsical elegant outdoor entertainment space, a cozy jacuzzi house, a sunroom, a studio, a home gym or a pool cover.
FEATURES
Spacious large hobby greenhouse: 200 sq ft
Strong aluminum frame construction with thick gauge

Extra roof support cross bar
10mm twin-wall polycarbonate glazing which is secured in place with heavy rubber sealing
6ft 7in full height side wall provide excellent headroom along the interior sides, with an 9ft 2in overall height at peak
Decorative roof ridge adds a touch of English sophistication and to deter birds perching on the roof
2 Sliding Doors
2 roof windows with manual spindle and included long-handled opener
2 roof windows with automatic opener
large gutters with downspouts
a misting system
Framework base can anchor to bare level ground (anchor stakes provided), a wood platform, or a concrete slab
Step by step assembly instructions and DVD
Made in Belgium
15 Year Limited Warranty
Financing Available
SPECIFICATIONS
Assembled Size: 10ft 2in W x 19ft 11in L x 9ft H
Side Wall Height: 6ft 7in
Footage: 200 sq ft
Frame: Black or Dark Forest Green Aluminum
Glazing:

10mm t

win-wall polycarbonate

glazing

Ship on 2 pallets and 2 long boxes, total weight of 1,600 lbs.
INSTALLATION VIDEO
INSTALLATION MANUAL
Janssens Royal Victorian Greenhouse Installation Manual
Janssens Victorian Hang Window Installation Manual
Janssens Victorian Fly Net Installation Manual
WARRANTY
15 Year Limited Warranty
---
7 Great reasons to buy from us:
Google Rated Top Quality Store

100% FREE Shipping

No Sales Tax

Financing Available

Price Match

Live Customer Service

American Owned Business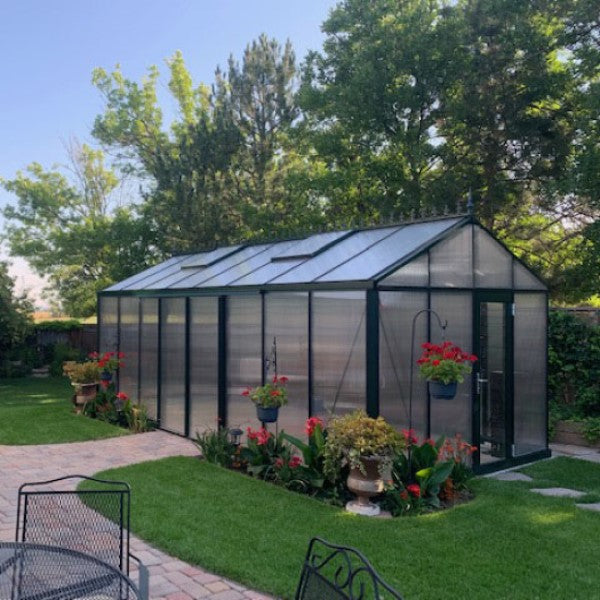 A greenhouse is not just a purchase, it is a lifestyle.
A greenhouse is not just a purchase, it is a lifestyle. You want the best people to help you with the process. We wanted to share our experience.
The Greenhouse is well made, and we have zero regrets choosing the Janssen Vi36 (10X20) polycarbonate greenhouse. We live in the mountains of Northern Colorado where we get strong winds, and the temperature fluctuates.
The construction, the manufactured metal pieces, the use of removable and adjustable rubber gaskets to hold 10mm panels instead of silicone glue all made this a superior choice.
We choose the Janssen because it came with an engineering certification for wind resistance. It can theoretically stand up to 125 MPH gust for 3 seconds. The only other choice us was a custom-made greenhouse which is not built as well as the Janssen.
We choose the 10-millimeter polycarbonate panels because they insulate better than glass and are more forgiving against hail storms. Polycarbonate does cut back a bit on the sunshine, but we get plenty of that at 5,250 foot altitude.
The order shipped to us in four large pieces. A forklift is required to maneuver the pieces from where the freight truck dropped them on our driveway to the inside of the garage. One piece was 22 feet long.
Opening the packages was both exciting and frightening. So many parts. The parts must be visually matched to the manual to be able to assemble.
Advice
Read the entire manual before the Greenhouse arrives. Watch the Janssen YouTube video. Then watch it again. I kept the YouTube available on an old iPad and referred to it often during the assembly.
We choose to mount the greenhouse to a cement foundation wall filled with 6 inches of pea gravel. The manual has clear instructions on what is required.
The design, manufacturing, engineering, and quality were superb. My Wife and I, who are both 70, assembled the Greenhouse without any additional assistance, over the space of two weeks.
We made quite a few calls, some in sheer panic to Exaco. Mostly about where is this or that part, how do you do this or that. Exaco has a team of support specialists available seven days a week.
As soon as the roof was filled in with Poly panels, we discovered our first real challenge. The outside temperature was 85 degrees, and the inside temperature became 110 degrees! That is without the walls.
We purchased a 20" exhaust fan. We installed it in the side of the Greenhouse by cutting down one panel and using an extra strut.
We bought two coolers so there is a unit on each end. Using the fan coolers and drawing the shades we can keep the Greenhouse 10-15 degrees cooler than outside. Activating the misting system drops the inside temperature by 5 degrees.
The temperature went from 85-90 degrees to a three-inch snowstorm in March. We bought two Bio Green PAL 110V heaters. It is made for Greenhouses and can withstand the humidity and occasional splash of water. It is equipped with a digital temperature sensor and remote probe.
We have already had 50 MPH gusts that blew in the direction of the broadside of the Greenhouse. It was solid. Neither the supporting structure or panels moved. We have had downpours of rain. Almost no penetration of rain.
The greenhouse is already producing more veggies than the two of us can eat. Big win for our neighbors and family.
Tips and Hints
The manual from Janssen is very detailed, but there are still surprises. Exaco has rewritten the manual to make it easier to use.
Do not be afraid to call for help, the Exaco support team are very patient. Because they are hands on people, they know where the tough spots are.
When you order, order a bag of 'T' Bolts. There are used to add attach things to the tracks of the vertical and horizontal supports of the greenhouse, like fan controls or thermostats.
We ordered manual crank openers for the windows that came equipped with automatic openers. Having manual windows was no problem at all for us.
Installing the poly panels - We found wearing cheap nitrile coated nylon gloves gave us the grip we need to handle the panels and install the rubber gasket.
The rubber gaskets – use the gloves described above if for no other reason than because the gaskets are oily. While installing them, the weather turned cold, we put a pre-cut strip inside of a 2" PVC tube and blew warm air into the tube until the gasket was pliable, then quickly installed the piece.
You will have to run electric to the greenhouse or install solar panels outside of it to run the fans, heaters, lights, pumps, etc. We have two 110V lines and one 220V line into the greenhouse.
We installed an 8-foot-wide shade on the south facing end of the greenhouse. It cuts out 80% of the sunlight. On very hot days, we draw all the shades at 1:00.
We found, in our climate, the side shutter/side fan works best, we will keep the roof vents closed for the summer.
Yes! I recommend this product.
QUESTIONS & ANSWERS
Have a Question?
Be the first to ask a question about this.
Ask a Question