Garden Igloo | Dome, PVC, 11'9"W, 7'2"H - Outdoor Dining, Play Area for Children, Stylish Conservatory, Greenhouse, Gazebo
Garden Igloo USA
Regular price

$1,445.00

Sale price

$1,199.00

Unit price

per
What you see is what you pay!
Free Shipping to the 48 Contiguous States including Lift Gate Service

Our Shipping Policy Page has details of our Free Shipping to the 48 contiguous states with Lift gate Service included, as well as other things you should know.
Share
Ask a Question
Estimated Arrival: Between Oct 04 and Oct 09.
DESCRIPTION
This Garden Igloo Dome is both weatherproof and rust resistant, 100% recyclable, can be used all year round, and can be set up without tools in two hours.
This is the Gardenigloo PVC V2 with an improved entrance including a reinforced zipper door and a large zipper handle for easy operation. Also available: Limited Edition V2 Aluminum Frame
You will get everything you need to fully assemble a Garden Igloo Dome with the Gardenigloo V2 kit. This includes the structural pieces, the transparent Winter Cover, and the anchoring kit.
The Garden Igloo Dome comes with a transparent Winter Cover that shields you from the elements and envelops you in a warm cozy corner to enjoy the natural beauty in your backyard.
Too hot? The available optional Garden Igloo Dome Summer Canopy Cover provides shade when it's too hot, or you need privacy from the neighbors.
Bothered by bugs? The available optional Garden Igloo Dome Mosquito Net is great for protecting you from mosquitoes and other flying pests in the summer, while allowing plenty of fresh air to flow freely.
The uses for this Garden Igloo Dome are endless. It can be a play area for children, storage area, garden shelter, greenhouse, jacuzzi or hot tub cover, or pavilion.
It can also be a social distance bubble for outdoor dining or a romantic and cozy seating area in a restaurant or any public outdoor venue.
Transparent Winter Cover material: non-toxic soft transparent PVC 300mic / UV resistant / -4F cold crack resistant / NFPA 701 - ASTM E84 Fire Retardant
U.S. Patent No. D896,336 - D909,527
FEATURES
MAXIMUM SOLAR GAIN - Sunlight is always transmitted at right angles throughout the day for four seasons. Please allow up to 3 weeks for the wrinkles to dissipate in the igloo cover.
OPTIMAL AIR FLOW - Excellent airflow is maintained even in warm, still weather conditions. The heat inside is distributed evenly at all points.
ORIGINAL - These Garden Igloo Domes are the original Garden Igloo Dome from Gardenigloo and NOT the substandard and cheaply made foreign copies. These units are manufactured using quality materials and superior manufacturing practices for years of durability and enjoyment.
UNIFORM TEMPERATURE - The geodesic dome form is superior to conventionally shaped rooms in sustaining better airflow and a uniform temperature inside.
WIND AND SNOW RESISTANCE - The geodesic form of the dome allows for the most robust design possible to withstand strong wind (up to 31 mi/h) or snow conditions (max. 90 lbs). Be sure to use the anchorage kit properly!
SPACIOUS - Garden Igloo Dome has a diameter of 11′ 9″. Max height is 7′ 2″. The base area is 107 ft²
IDEAL FOR RESTAURANTS - Cafes, Wine Bars, Coffee Bars, Events, Weddings, Festivals, Roof Top Parties, Outdoor Dining, and Social Distancing.
SPECIFICATIONS
Installation and User's Manual
INSTALLATION VIDEOS
FRAME INSTALLATION
COVER INSTALLATION
FIXING THE AIR VENTS
FIX COVER TAILS
INSTALL BASE WEIGHT BAGS
ACCESSORIES
---
7 Great reasons to buy from us:
Google Rated Top Quality Store

100% FREE Shipping

No Sales Tax

Financing Available

Price Match

Live Customer Service

American Owned Business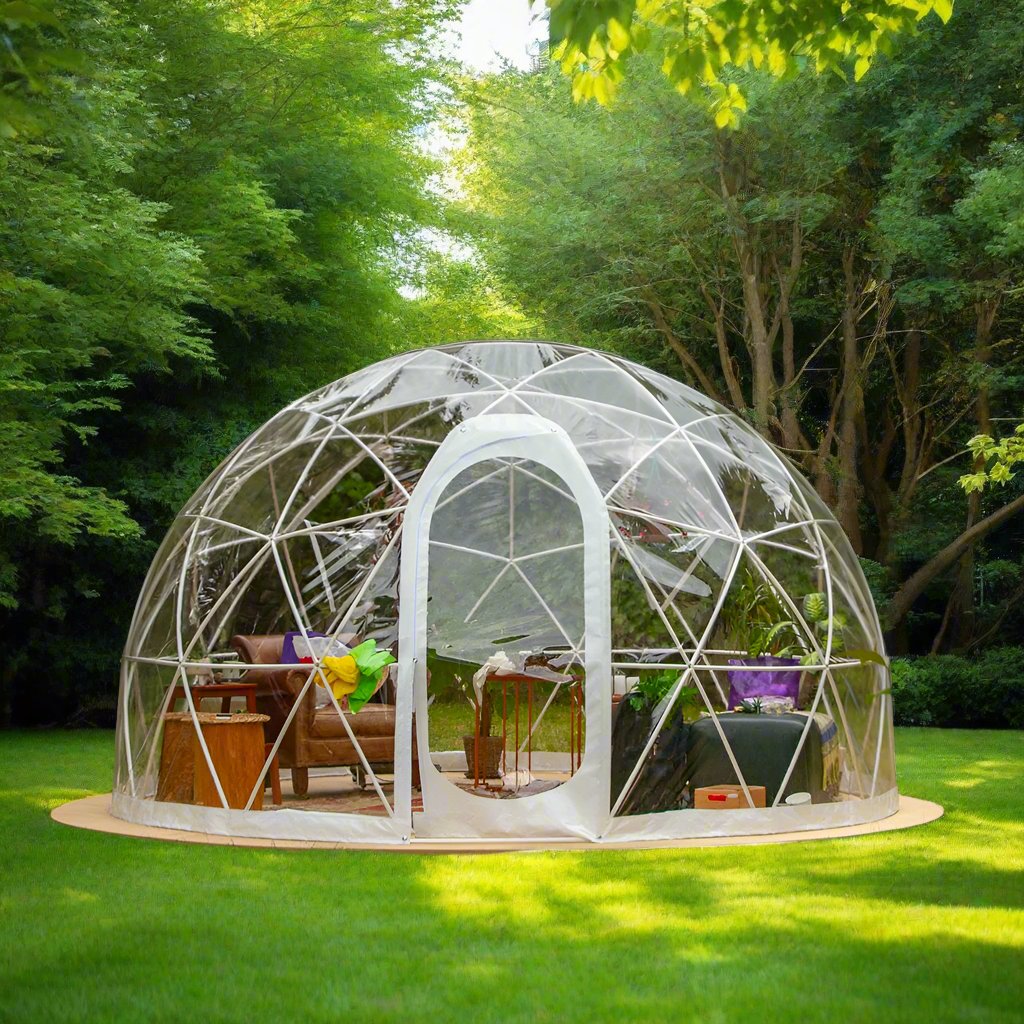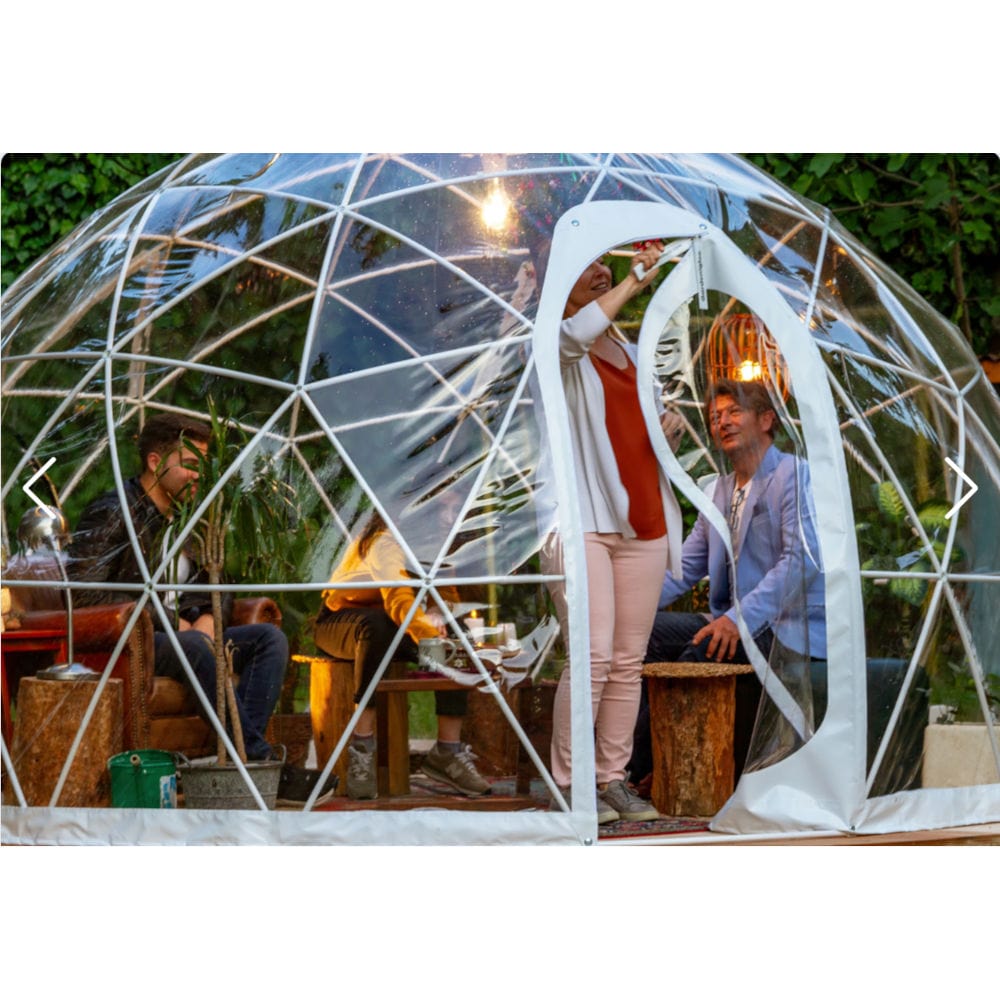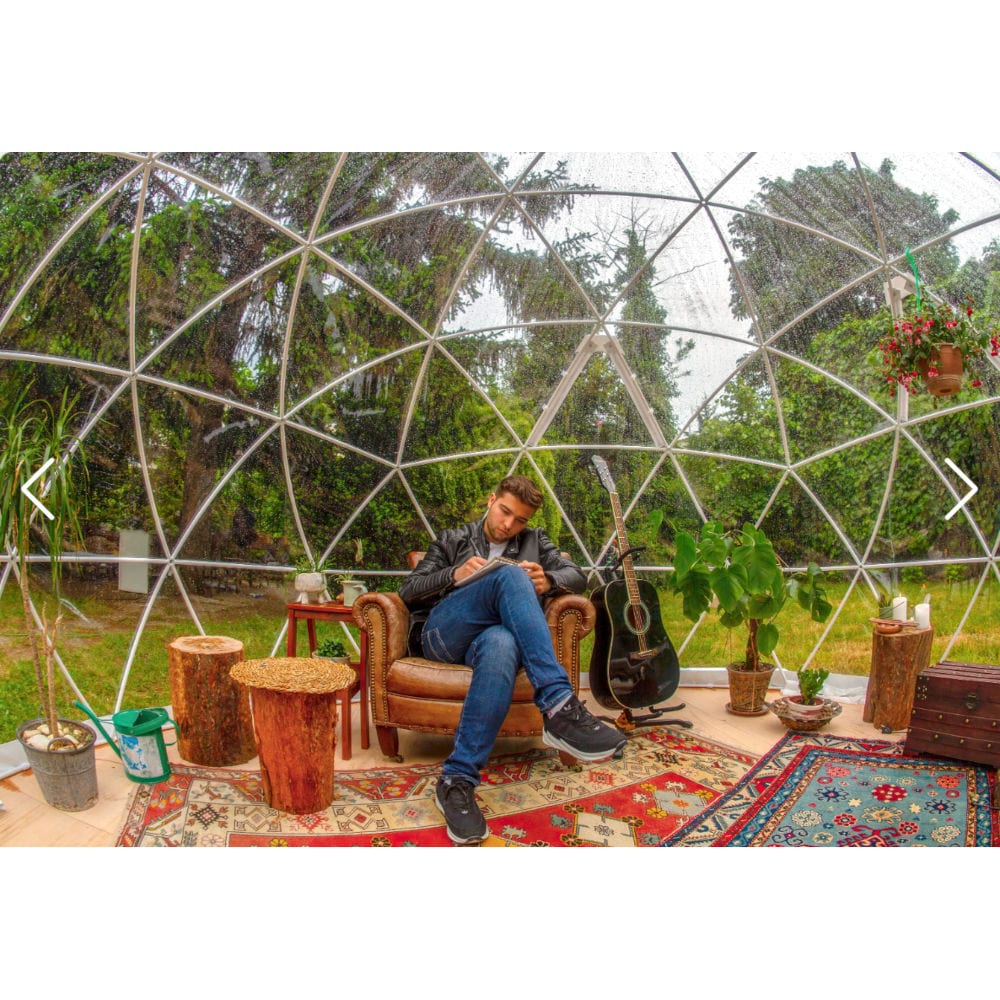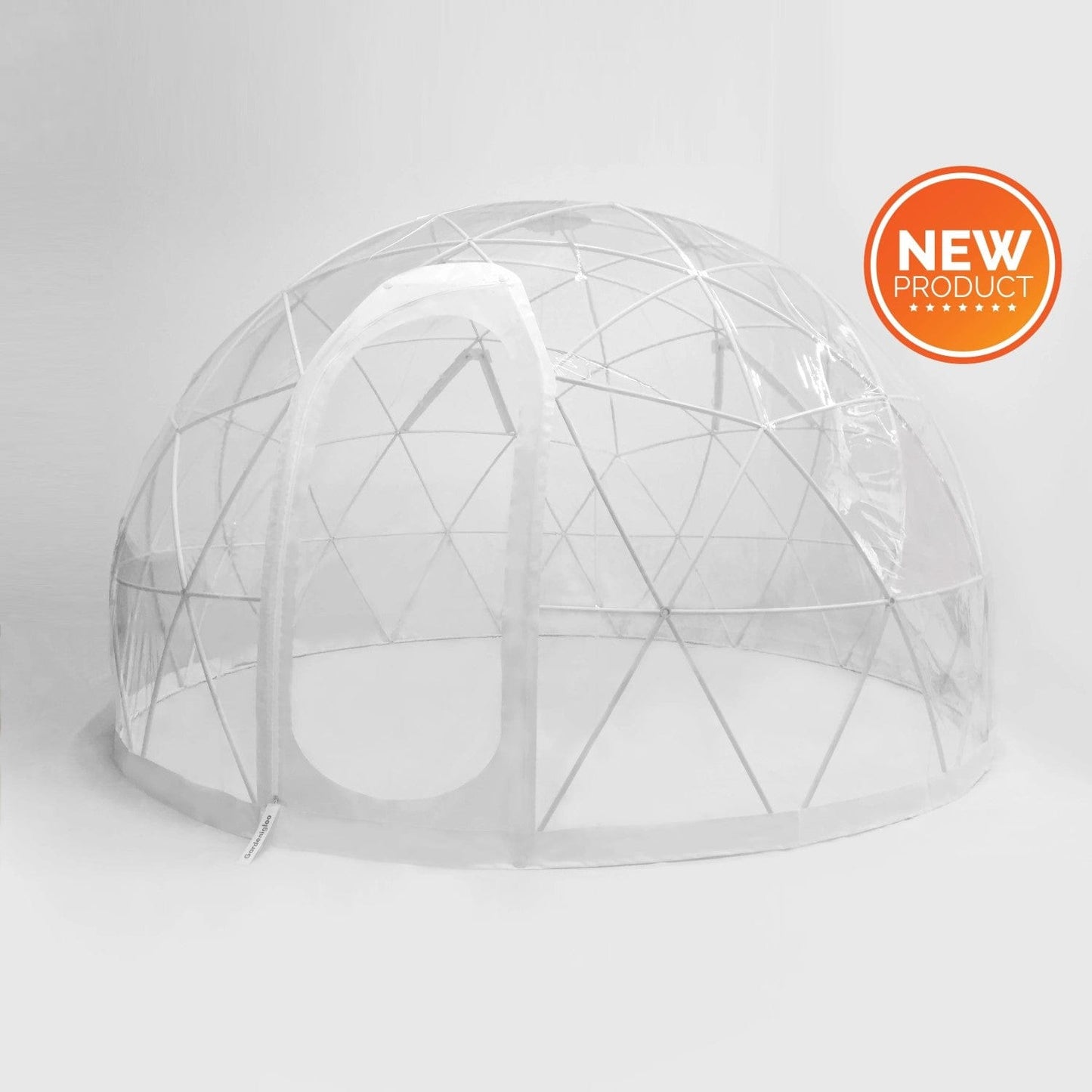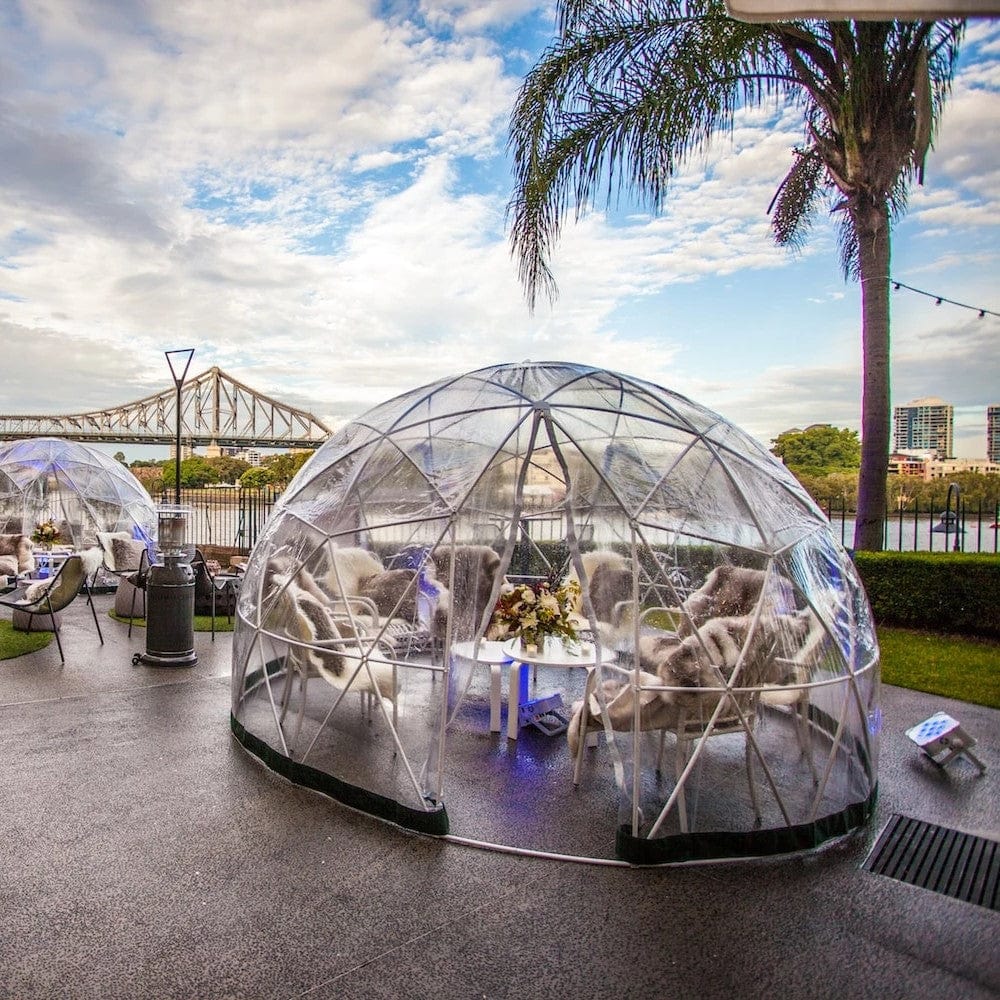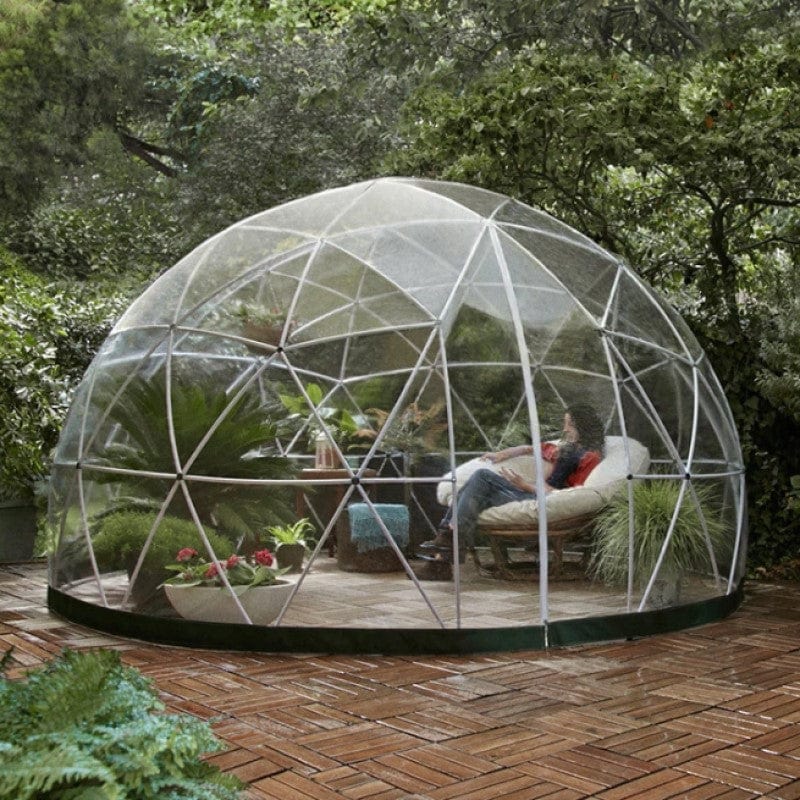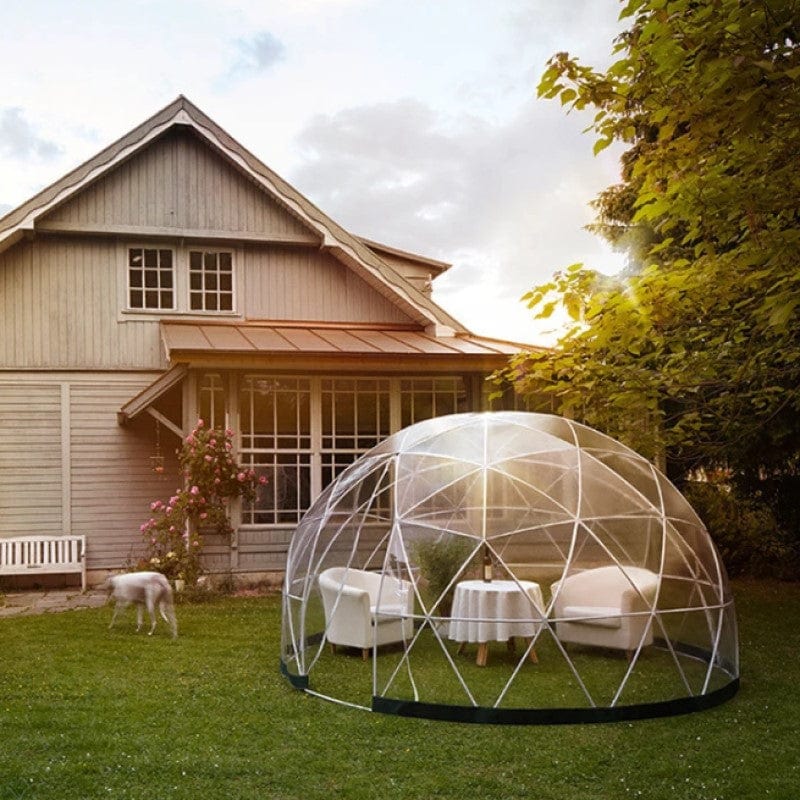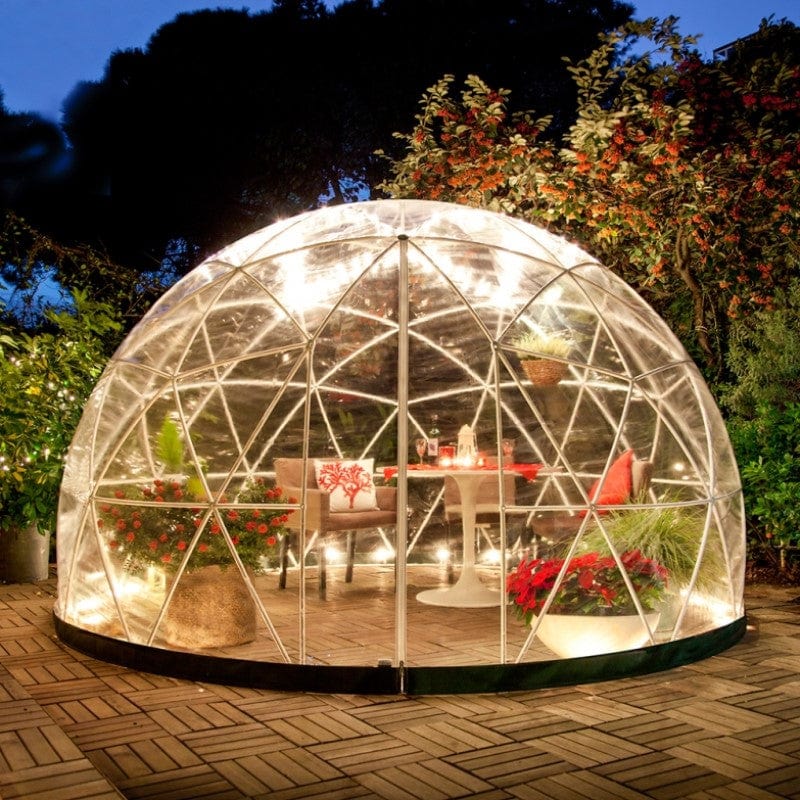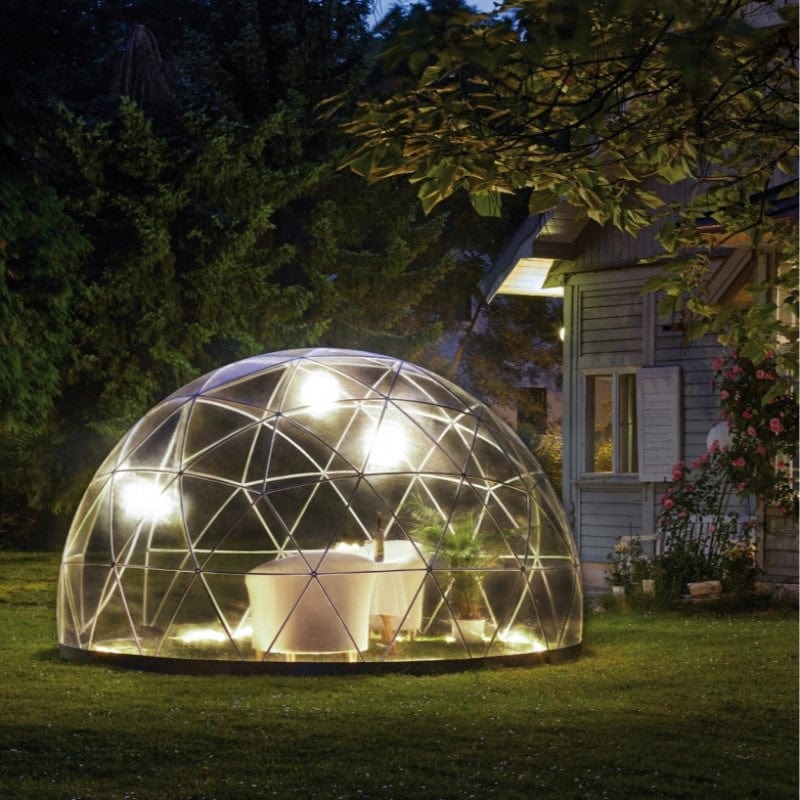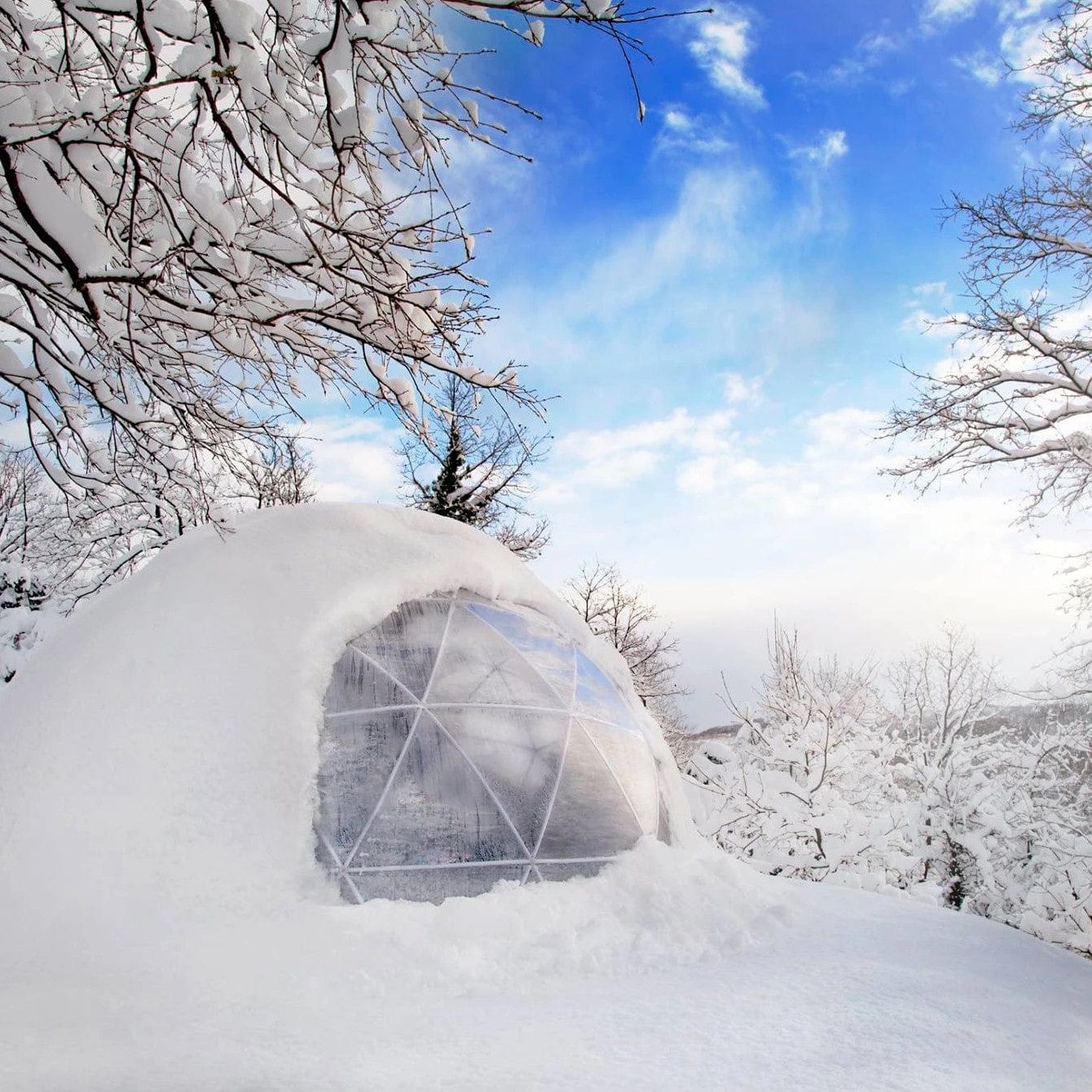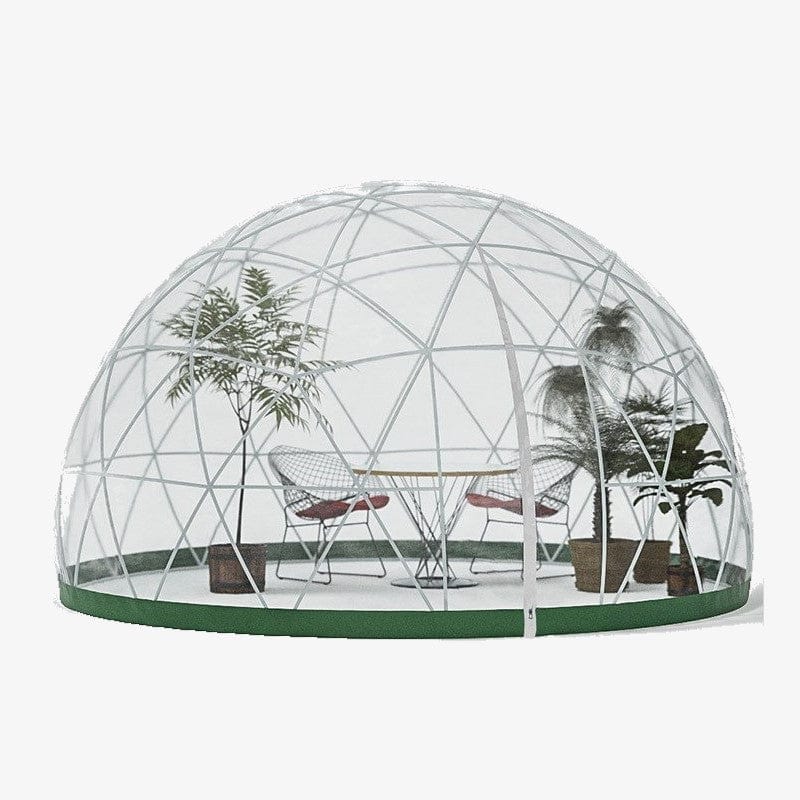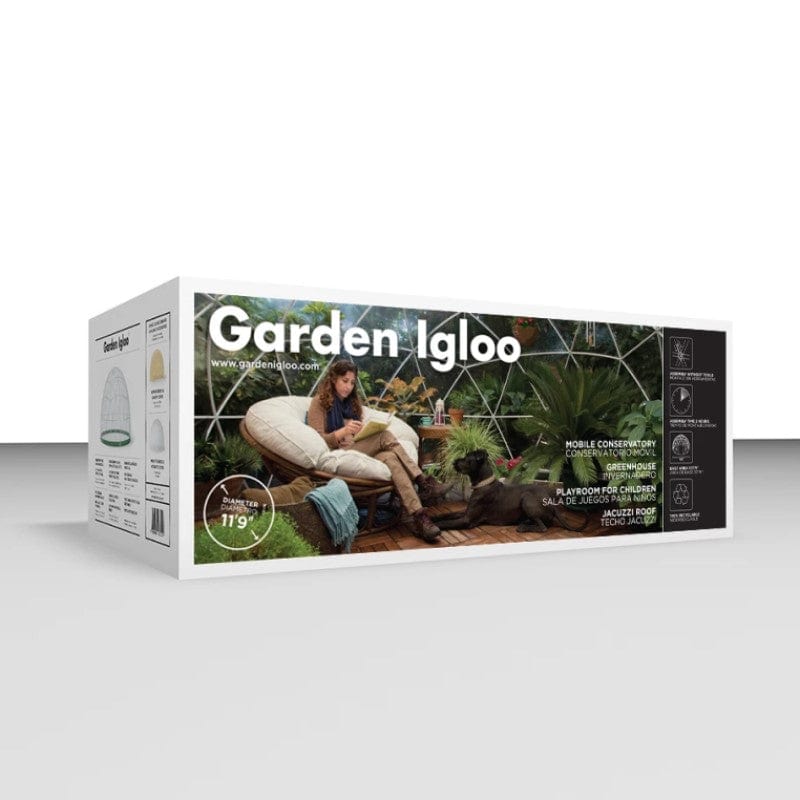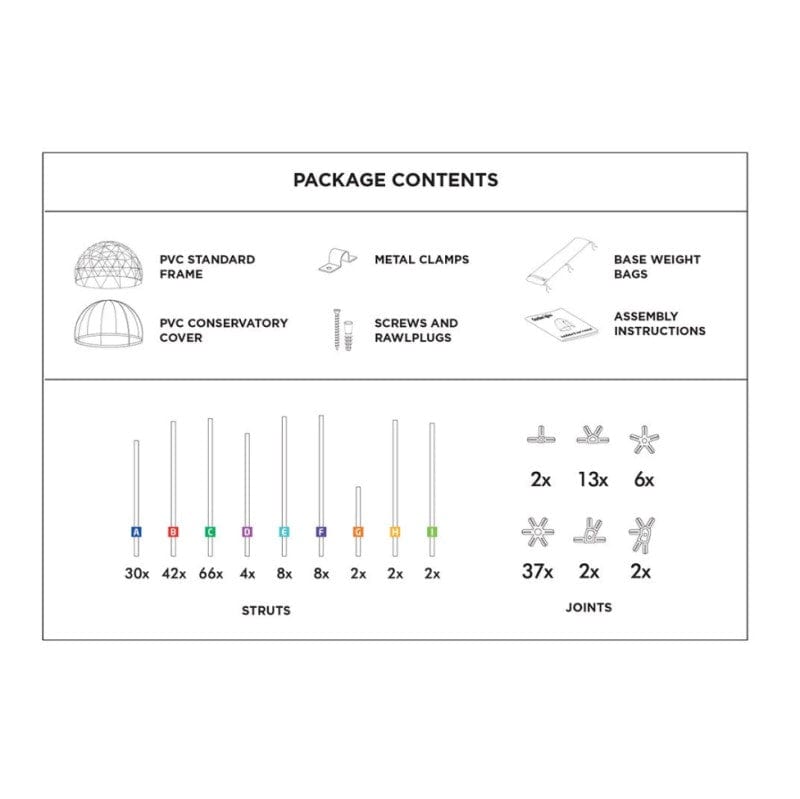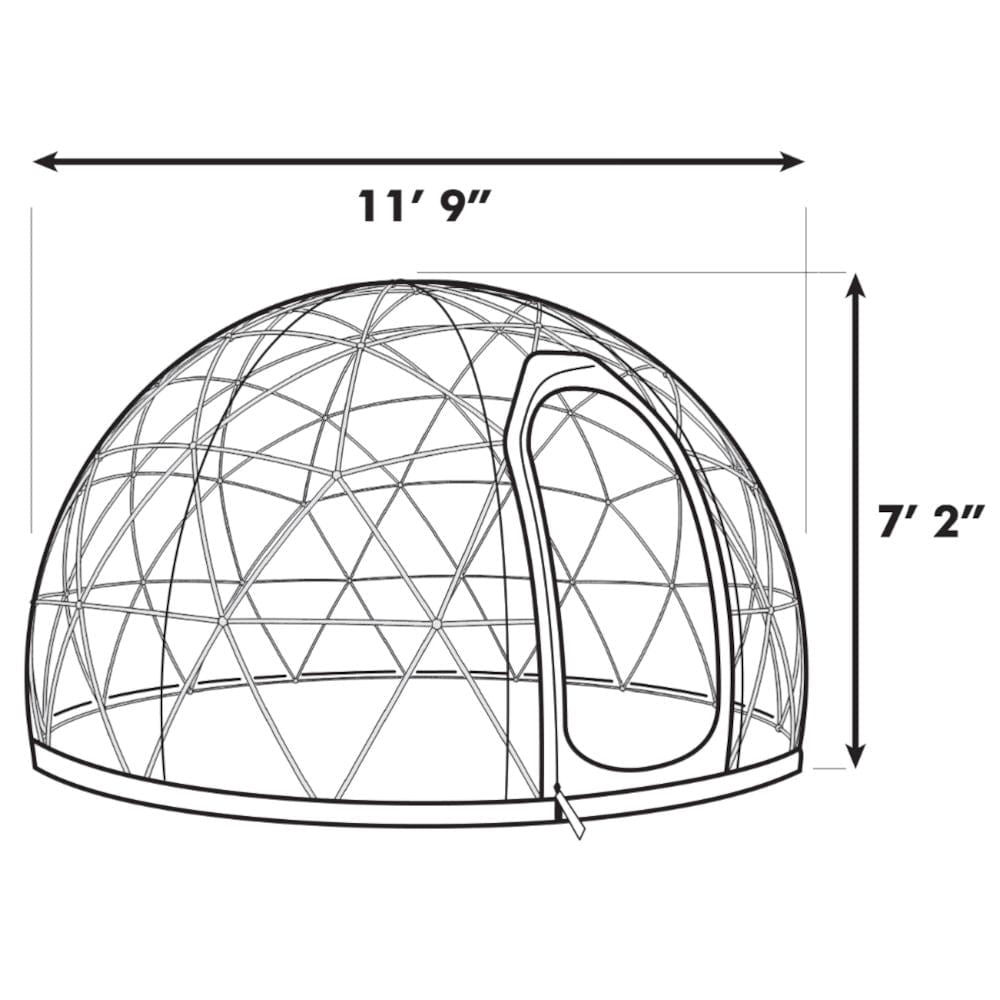 Lolo's Igloo
We love the igloo/dome!
Thank you for personally expediting the shipping for me, so I could get it before Christmas! We are enjoying it and it was great with the frigid weather and high winds in Cleveland, Ohio!!
Fantastic to hear! Thank you so much for the kind words, we are glad we were able to get it to in time! Great to know that you were able to get it assembled in time to enjoy it during the 'arctic blast' we had this year. Cold winds in Cleveland are no joke!
When do you use it.....a cool mild climate
Yes, but what is it for, not good in warm weather, not good in cold. so spring...…It takes 3 weeks for wrinkles to disappear- it would be too hot by thenor too cold... .So cool looking but I cant quite figure out when I would really use it..... Maybe on my lake as an ice house.
Love the ice house idea! If you do it, please send us come pictures!
Very Sturdy
surprisingly sturdy and large. the Hilton in Savannah features one of these on its rooftop bar/area. They had a loveseat, two chairs, a rocker, a small bookshelf with games, and a tiny electric "fireplace" inside of it! it got so warm inside that we had to take our sweaters off. very cute!
Love it
Super happy with product. I bought them for my bar and grill for colder month seating!
Can I assemble the Garden Igloo Dome myself?

Yes, we provide detailed, user-friendly, step-by-step assembly instructions and detailed videos on our web site https://mygreenhousestore.com/products/garden-igloo-dome No tools are required for assembling. You can assemble it in less than 2 hours with ease.

Do I need a solid base or foundations?

Gardenigloo can be installed both on soft and hard surfaces. On hard surfaces like concrete, wood deck, etc., use the metal clamps with suitable screws. For softer ground like soil, lawn, etc., use the provided base weight kit to fix your Gardenigloo to the ground.

Do they stay warm in winter?

In winter, close the windows and the dome will heat up several degrees, especially when it is very cold but the sun is out. It is also ideal for cutting out the wind chill factor. It will require roughly 40% less heating in winter than a standard greenhouse due to the geodesic shape. This is due to its low volume for its base area and the fact that its surface is always at right angles to the sun's rays even in low winter sun, heating it up naturally.

Do they get hot in summer?

Like a greenhouse, the temperature in the Gardenigloo garden dome igloo will always be several degrees hotter than the external temperature; therefore it will get hot in summer. Keeping all the air vents open will help to reduce the heat inside. However, during sunny spring - summer days, when the outside temperature is above 50°F, the interior air temperature can rise to excessive heat levels (+140°F).  In this case, switching to the summer shade or mosquito net cover will keep you cool!

How quickly does it take for the garden igloo V2 to ship?

It is in stock.  It will take a couple of business days to ship once an order is received.

Is there a vent at the top so it can be put over a wood fire pit?

The Gardenigloo is not suitable to be put over a wood fire pit.  It has one entrance and two air vents.  An outdoor type, electrical space heaters and extension cords may be used. The Gardenigloo interior retains heat, so there should not be any need to have the heaters on 24/7.

Can I order replacement covers for these? If we are considering using these for outdoor seating on our restaurant patio this winter, it would be nice to be able to purchase replacement covers if they are used heavily.

Yes, replacement cover for the Igloo is available.

How many people will it seat with table... comfortably Is there a full and a half cover or is it the same? Does it fade in the sun and if so how long will it last (clear covering). How much are the clear coverings.?

Although it depends on the arrangement of the furniture and dimensions, 8 people can fit inside of the Gardenigloo with furniture. 

There is the Conservatory Cover, included with the Gardenigloo.  The Gardenigloo clear Conservatory cover lasts for 2 years with proper maintenance and careful usage. It does not fade in the sun.

There is an optional Mosquito net, which covers the entire igloo.
The optional beige Canopy Cover that gives shade to the igloo has a wider opening

Can you use a heater in it? If so what kind? Electric only?

Yes, you can use an electric heater and place it in the center of the Igloo.  It will be safer than a gas one.

Greetings, if we wanted 12-18 of these, could we discuss a group price? Thank you Richard

Yes, please give us a call and we can discuss over the phone.

Hi I'm looking for outside ideas for my bar and grill . Can I put heaters in these? Does it come with a warranty? How is the zip for the door going in and out? What about storms? Will it hold up?

I got your questions answered by the manufacturer.  If you are going to use the grill inside the igloo, make sure you have the vents and door open.  You don't want carbon monoxide to build up inside it.

On heaters:

We as Gardenigloo USA LLC always urge Owners to use outdoor type, electrical space heaters.

Refrain from using:

a) Propane or gas-based heaters.

b) Open fire heating sources.

c) Charcoal or coal-based heating,


On the warranty:

-Our warranty can be found in detail in the last page of the instruction manual, here:

-We as Gardenigloo USA only accept manufactural faults to be covered by warranty. A warranty lasts one year.

-In order to inquire for a warranty, one must provide visual information (pictures of fault), a user's account of events (on the performance and on what happened.), and the serial number of the Gardenigloo in question. You may contact us through e-mail.

-Third party damages (such as a car ramming into the Gardenigloo, or a child stabbing the cover with a utensil) are not covered in the warranty.

-Outside of the cover, in any cases of missing/broken/lost parts - a person may make a spare parts inquiry, here: 

https://gardenigloousa.com/pages/spare-parts

 

On the zipper door:

The zipper opens around the door, functioning as a traditional door. (albeit without a doorknob.)

 

 

On Storms:

In the Gardenigloo unit, we provide you the "Anchorage Kit"--consisting of 14 weight bags (not including fine, dry sand), 20 Metal Clamps and 40 Screws.

We specify on our spec sheet that the Gardenigloo's wind resistance is 31 MPH. But this is only guaranteed with FULL installation of the Anchorage kit.

The Gardenigloo may also withstand wind speeds up to 45 MPH, but it would be wise to always monitor your area's weather conditions. If it exceeds this limit, it would be wise to uninstall the cover to avoid damage. The structure may stand as is.

Do you make in a smaller size?

There is only one size.

Do you sell the replacement clear cover ours has a significant rip in it

Yes!  We have the replacement winter cover here https://mygreenhousestore.com/products/gardenigloo-360-winter-garden-replacement-cover-v2

This cover will fit the earlier V1 model, as well as the newer V2 model.

We also have the Summer canopy and mosquito net covers as well.